Buying your first house during Coronavirus COVID-19
Topics
If you are thinking of buying your first home, you may be a little uncertain about how to start, especially with the current lockdown restrictions in place. However, there are many things you can do now to get started on buying your first home. ESPC is here for you so we've put together our top tips and advice on buying your first home in the present circumstances below.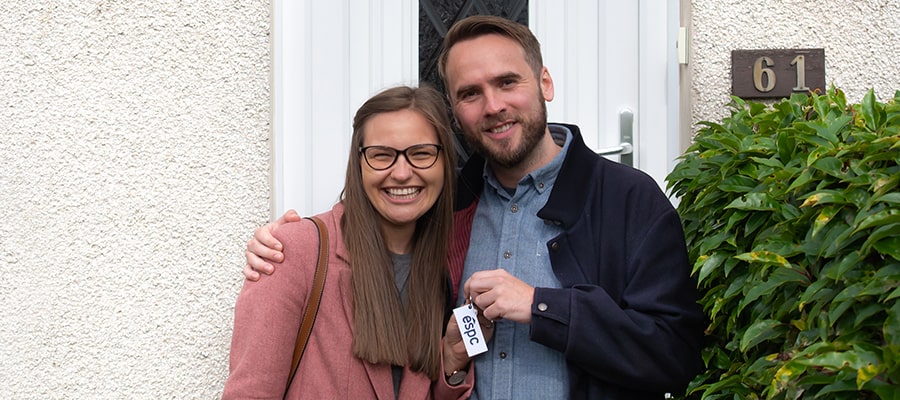 1. Appoint a solicitor estate agent
In Scotland, you need a solicitor to buy a property. So, if you're thinking of buying a home, you should speak to and appoint a solicitor estate agent to represent you. All ESPC agents are solicitor estate agents with expertise in the local property market.
During these uncertain times, it's more important than ever to get guidance from an experienced agent. ESPC agents are here to help you navigate the buying process during this time so get in touch with an ESPC agent today to get started.
You can also make use of ESPC's property advice phone service to get free advice from an ESPC agent on buying your first home.
2. Speak to an independent mortgage adviser
At present, many mortgage lenders have restricted their borrowing rules with most requiring a larger 15% deposit, compared to the 5% norm before lockdown. However, this is a temporary measure to help lenders cope with less staff and higher volumes of enquiries, and some lenders are still accepting lower deposits. An independent mortgage adviser can help advise on your best options.
David Lauder from ESPC Mortgages said that first time buyers should contact an independent mortgage adviser to get the best deal and advice for them in the present circumstances.
A mortgage adviser will also help to arrange an agreement in principle for you, which is essentially a document outlining how much a lender would be willing to lend you. You are still able to arrange an agreement in principle during lockdown, and this will be crucial in helping you understand your budget for a property. 
You are also still able to make offers on properties during lockdown. Murray Souter from ESPC Mortgages recently helped a client get an offer accepted on a home.
The client said: "I think the process of getting a first time buyer mortgage would've been a lot harder without our mortgage specialist, Murray  Souter. I'm glad we approached  Murray  as it massively reduced  the risk of getting something wrong and delaying or losing out on the house altogether."
Get independent mortgage advice with espc mortgages
3. Search houses and flats for sale
While there are less homes on the market than usual at this time of year due to the current social distancing measures, there are still many properties for sale and there are still some new houses and flats coming to market. Search properties for sale on ESPC now.
To find out about homes that meet your requirement as soon as possible after they come to market, sign up to My ESPC to get property alerts to your email inbox. You can also shortlist properties and sign up to be notified if they have a change of status, e.g. they are placed under offer or a closing date is set.
Many ESPC agents have reported that they have several properties set to be brought to market when the Scottish Government's social distancing advice allows for the market to resume. Signing up for My ESPC will help you beat the queue and find out about these properties as soon as possible after they come to market.
4. View properties virtually
If you're interested in a property that is currently on the market, in person property viewings aren't currently available. However, many of our agents have started offering virtual property viewings. These may take different forms, including a live video viewing with the seller, a pre-recorded video and 360 video tours.
To find out about the viewing options available for any properties on ESPC, simply search properties for sale, click the "register to view" button on the home you're interested in, fill out the quick and easy form and the selling agent will be in touch.
If you would prefer to view the property in person, you can also ask the selling agent to contact you when the current restrictions have been lifted and it is safe to do so.
5. Make offers on properties
If you wish to, you can still make offers or note interest on properties that you're interested in. Although you should be aware that the buying process will take longer than usual as most conveyancers will not conclude missives until the lockdown restrictions have been eased.
You can also make offers or note interest subject to a physical viewing when you're able to, if you would like to view the property in person before finalising the sale.
Stacey Wilson, Director at VMH Solicitors, noted two examples of first time buyers offering on their properties, subject to a physical viewing when the current restrictions are eased. Ron Hastings, Director of Hastings Legal, said that they are receiving notes of interest on properties from first time buyers.
One of the questions you will likely have as a first time buyer is: "How much will I have to offer to secure a property in the current market conditions?"
Kevin Conway, Property Negotiator at Clancys Solicitors, has been helping a few first time buyers recently and offered for one recently. He advised that offers generally still need to be at or above Home Report valuation.
However, every property purchase is different and your solicitor estate agent, with their in-depth market knowledge, will be crucial in advising you on how much to offer for a property.
You may also be interested in...
The initial consultation with an ESPC Mortgages adviser is free and without obligation. Thereafter, ESPC Mortgages charges for mortgage advice are usually £350 (£295 for first-time buyers). YOUR HOME MAY BE REPOSSESSED IF YOU DO NOT KEEP UP REPAYMENTS ON A MORTGAGE OR OTHER LOANS SECURED AGAINST IT.
ESPC (UK) Ltd is an Appointed Representative of Lyncombe Consultants Ltd which is authorised and regulated by the Financial Conduct Authority.