Find homes for sale first
Topics
We know that most buyers want to find their dream home before anyone else sees it, and with properties selling fast this can be tricky to do.
Exclusive to ESPC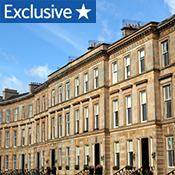 That's why we've created Exclusive to ESPC, where we advertise hundreds of houses and flats for sale 72 hours before other property websites. 
Find Exclusive homes today
Find your next home first by searching our Exclusive properties today – just look out for our blue Exclusive sticker!  
Or sign up to a My ESPC account and receive Exclusive homes direct to your email. You won't miss anything during the search for your dream home.  
Whether you are looking to buy your first flat in Leith or a family house in Dunfermline, use Exclusive to ESPC to get ahead of the competition and find your new home first.