95% mortgage guarantee scheme: How this new initiative could help you buy a house with a 5% deposit
Topics
On Wednesday 3rd March 2021, the UK Chancellor of the Exchequer announced a new UK-wide mortgage guarantee scheme, designed to help buyers get on the property ladder with just a 5% deposit.
Before the Coronavirus pandemic, 95% mortgages were relatively commonplace, but due to the impact of COVID-19, mortgage lenders raised the minimum level of deposit and stopped offering these. Some more lenders are starting to offer 90% mortgages, however.
The UK Government's mortgage guarantee scheme aims to bring 5% deposit mortgages back to the marketplace. Here's everything we know about the scheme so far.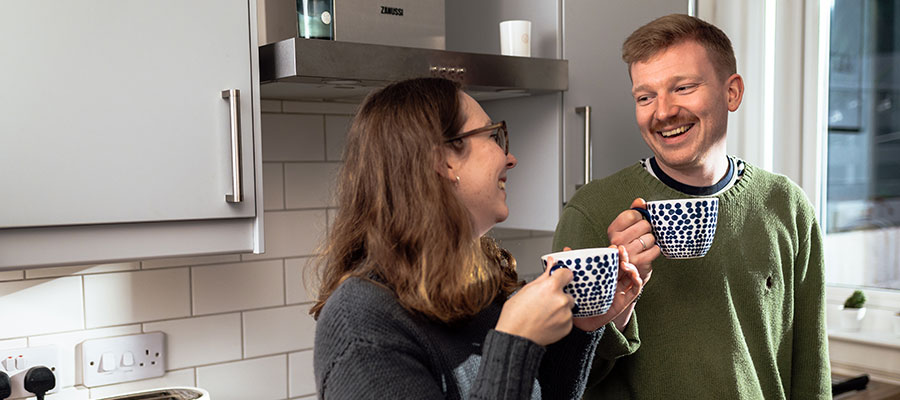 How does the mortgage guarantee scheme work?
The scheme is based on an initiative launched back in 2013 and aims to quickly enable lenders to start offering 91 – 95% mortgages.
The government will provide mortgage lenders with the option to purchase a guarantee on the top-slice of the mortgage.
This means the government will compensate the lender for a portion of the net losses suffered if the property is repossessed due to the owner no longer being able to pay off their mortgage. The guarantee will apply down to 80% of the purchase value of the guaranteed property.
However, lenders will also take a five per cent share of net losses about this 80% threshold. This is to help make sure that lenders don't offer poor quality loans.
How long will the mortgage guarantee last for?
The guarantee will be valid for up to seven years after the mortgage starts. According to the UK Government, evidence shows that loans are unlikely to default after this time.
The borrower would normally have also paid enough of the mortgage off by this stage so their equity stake would be closer to 20%.
Can I get a 95% mortgage using the guarantee scheme?
According to the government, the scheme is "designed to help creditworthy households struggling to save for the higher mortgage deposits" currently required by many lenders. If that describes your situation, then the scheme may work for you.
However, there are certain criteria that must be met. In order to be eligible for this scheme, a mortgage will need to:
Be a residential mortgage (not available for second-homes or buy-to-lets)
Be taken out by individuals rather than a company
Be on a property in the UK with a purchase value of £600,000 or less
Have a loan-to-value of between 91 per cent and 95 per cent
Start between the dates specified by the scheme
Be a repayment mortgage and not interest-only
Meet the standard requirements in terms of the assessment of the borrower's ability to repay the mortgage (for example, credit score and loan-to-income).
When will the mortgage guarantee scheme be launched?
It is due to be launched in April 2021. The Chancellor said several UK lenders were getting ready to start offering these products then.
How many lenders are taking part in the scheme?
When the scheme was officially announced, it was said that several of the main high street lenders plan to take part.
There will likely be more lenders joining the scheme as time goes on, so it's best to speak to an independent mortgage adviser who can look at lots of different options from a wide range of lenders to find the most suitable mortgage deal for you.
Is there a limit on property price?
Yes, the scheme can only be used on UK properties with a purchase price of £600,000 or less.
It's important to remember that in Scotland, lenders only lend up to the purchase price or Home Report valuation, whichever is lower.
If you therefore choose to bid over the valuation, then you will need to budget for this in addition to your 5% deposit.
I'm not a first time buyer, can I use the mortgage guarantee scheme to get a 95% mortgage?
The eligibility set out by the government does not specify that you must be a first time buyer, so this scheme should be available to home movers also.
However, you should consult with an independent mortgage adviser to discuss the options available to you from lenders.
Can the mortgage guarantee scheme be used for buy-to-lets or second homes?
No, the UK Government has said the scheme will only be available on residential mortgages and can't be used on buy-to-lets or second homes.
Will the mortgage guarantee scheme be available in Scotland?
Yes, the scheme is UK-wide so will be available for properties in Scotland.
How do I apply for the mortgage guarantee scheme?
The mortgage guarantee scheme is set to launch in April 2021, with lenders getting ready to offer these products then.
If you are thinking of applying for one of these 95% mortgages with the guarantee scheme, you should consider speaking to an independent mortgage adviser in advance. They can look at a variety of products from different lenders to help you find the most suitable mortgage deal.
ESPC Mortgages is a team of Edinburgh-based independent mortgage advisers with a wealth of experience. Get in touch on fsenquiries@espc.com or 0131 253 2920.
Find out about the process of buying a house in Scotland, and don't forget to check out our first time buyer hub. You can also read advice for property buyers during the COVID-19 pandemic.
You may also be interested in...
The information contained in this article is provided in good faith. Whilst every care has been taken in the preparation of the information, no responsibility is accepted for any errors which, despite our precautions, it may contain.
The initial consultation with an adviser is free and without obligation. Thereafter, ESPC Mortgages charges for mortgage advice are usually £350 (£295 for first-time buyers). YOUR HOME MAY BE REPOSSESSED IF YOU DO NOT KEEP UP REPAYMENTS ON A MORTGAGE OR OTHER LOANS SECURED AGAINST IT.
ESPC (UK) Ltd is an Appointed Representative of Lyncombe Consultants Ltd which is authorised and regulated by the Financial Conduct Authority.