Selling a house or flat with ESPC
Topics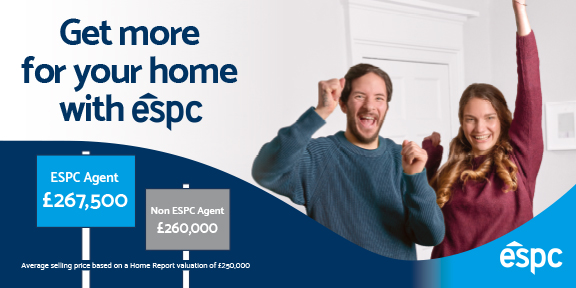 We're here to help you through each step of selling your home. 
Discover why selling through ESPC will get you more for your home! And if you're still looking for your new home, search for houses and flats for sale now.
1. Get more for your home with ESPC
Independent research proved that on average ESPC agents achieve a higher selling price above Home Report valuation than non-ESPC agents
Our research showed that ESPC agents achieve 107% of Home Report valuation on average while non-ESPC agents achieve 104%
That 3% difference could mean a lot more money for your home – for a house valued at £250,000, it would mean £7,500 more just for choosing the right selling agent.
find out how much more you could earn
2. Get more local expert knowledge with ESPC agents
Our agents are all experts in the local market, with access to a wealth of ESPC data allowing them insights into the market, including how fast houses are selling and how much properties are selling for in your area
Our agents are all based in Scotland and have detailed knowledge of the Scottish property buying and selling process, which is unique to England, meaning they can guide you through the whole process
When selling your house, one of your most valuable assets, you'll want to feel guided and supported through the whole process – with their knowledge and expertise, our agents can do just that.
Find out how much your home is worth
3.

Get more quality enquiries for your home with the ESPC marketing package
When your property is advertised through ESPC, it will appear on our website and app, which receives hundreds and thousands of visits per week
Properties are promoted to engaged buyers across ESPC areas via email property alerts through their My ESPC account.
Houses and flats in Edinburgh, the Lothians, Fife and the Borders will also be featured in the ESPC Paper (25,000 copies distributed weekly) and in our George Street Information Centre.
You want your home to be marketed to as many engaged buyers as possible to ensure you get the best price for your home – ESPC's varied and comprehensive marketing package will help you do that.
Where to start with selling your house
The first step to selling your house or flat is to find out how much your home is worth. ESPC's free home valuations service can help you do that. What's more, you can select agents to value your home based on what matters most to you, whether that's selling your house fast or achieving the best possible price over Home Report valuation.
Looking for some free advice about selling your home? Pop in to our George Street Information Centre in Edinburgh to chat to our legal and financial experts.
If you're still looking for your new home, search for new houses and flats for sale in Edinburgh, the Lothians, Fife, central and west of Scotland and Dumfries and Galloway.