We announce the winner of our first time buyer prize draw
Topics
Find out who is the lucky winner of the ESPC £3K prize draw to go towards a deposit to buy their first home.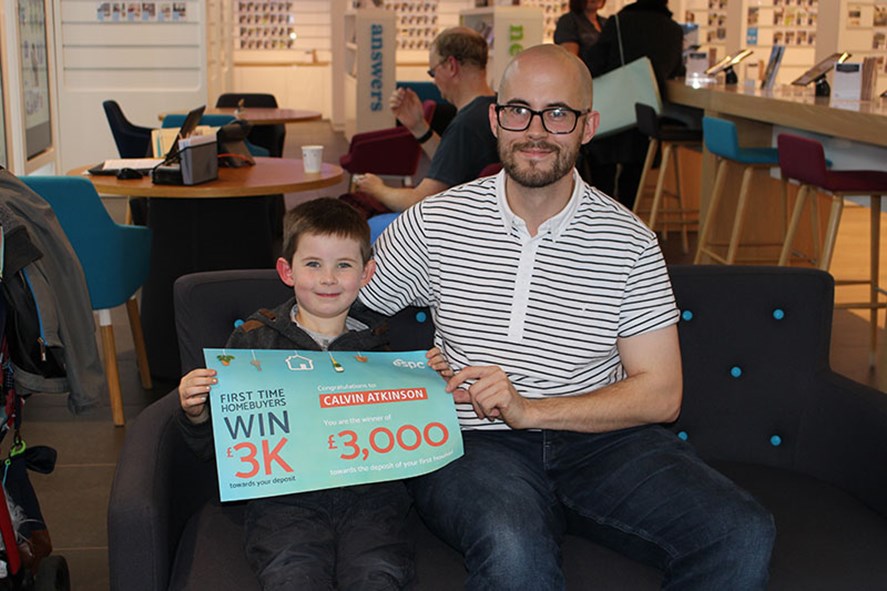 Having to sacrifice lunch in order to save for a home deposit for him and his children was the reality for Calvin Atkinson, the winner of ESPC's prize draw to win £3,000 towards a first home deposit.
We launched our fantastic prize draw in September, and after huge interest from first time buyers, Calvin was the lucky winner whose name was randomly pulled from the hat at our property information centre on George Street.
30-year-old Calvin, from Edinburgh, works as a delivery driver for Sainsbury's. He's a single dad with two young children. He's been trying to save since the start of the year, as renting property has proved tough, and hopes to find a property in South Queensferry to be close to his five-year-old son's school.
"Owning my own home means security for me and my two children. We've been renting but the past two landlords decided to sell their property when we were living there, meaning I had to move out and look for somewhere else," says Calvin. "With two kids I've had to make quite a lot of sacrifices to save as I have also been trying to pay off debt at the same time. For example, sometimes I will go without lunch at work just to be able to save the extra money."
Now that Calvin has won £3,000, he will be able to use this as part of his deposit, and will also benefit from free mortgage advice from ESPC Mortgages and free conveyancing from Jardine Phillips.
Paul Hilton, CEO of ESPC, says: "Hearing stories from first time buyers about how challenging it can be to save for a deposit, particularly with other financial considerations, was the reason why we launched our first time buyer prize draw. £3,000 can make an enormous difference to pulling the money together for a deposit, and with free mortgage advice and conveyancing included in the prize, this will be invaluable to Calvin.  We wish him luck with his property-buying journey and I look forward to following his progress. I'd like to say thank you to everyone for getting involved in our second first time buyer prize draw."
For more news, events and competitions, make sure you check out our Facebook page and espc.com/news. We'll also be following the progress of Calvin, and our first prize draw winner Aimee Lawrie, as they buy their first home with the help of ESPC. Also watch this space for future initiatives.