Space saving ideas for small homes
Topics
If you're purchasing a flat or house for the first time, the likelihood is it's not going to have bags of space to spare. That's why we've pulled together five easy to implement ideas to allow you to make the most of your smaller property.
If you're looking for up-to-date advice or guidance on buying your first home then head to our dedicated first time buyer guide.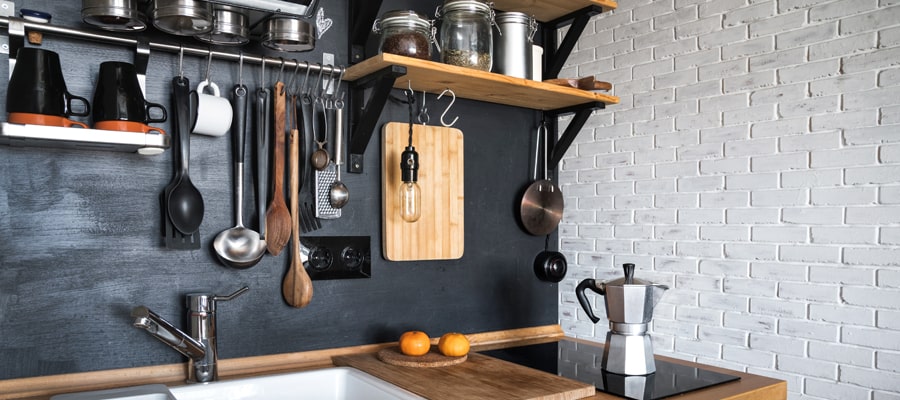 1. Use the walls
Easy to fit wall space savers are easy to get hold of and are particularly useful in the kitchen. Why not try adding a magnetic strip to your kitchen wall for your chopping knives to stick to? This will save space compared to using a knife holder or drawers. Attaching adhesive hooks to the walls, under elevated cupboards or on the ceiling can be create a great space to hang extra utensils or pots and pans, freeing up cupboard space.
2. Use racks
Whether you're trying to save space in the kitchen, hallway or bedroom, racks are fantastic for storage. Shelved shoe racks can keep a front porch or bedroom neat and tidy, saving on valuable wardrobe space and avoiding trip hazards. Spice racks in the kitchen can help organise your ingredients, save on cupboard space, particularly if fixed to the inside of the door, and can even make an attractive display on a shelf. That brings us to…
3. Create attractive displays on shelves
If you have bright white or neutral walls in your kitchen, this can be treated as a blank canvas and used creatively to bring objects together as attractive shelf displays. Why not bring together colourful coffee, sugar and tea containers with a house plant, or keep your cereals and pastas in glass containers on shelves. You'll be surprised how attractive you can make shelf displays at minimal expense, with the added benefit of freeing up cupboard space.
4. Use folding or multi-purpose furniture
Pieces of furniture are always the largest objects in a home, particularly in the bedroom or living room. Collapsible tables can make a great desk in a living area, which can then be neatly folded away into a cupboard for when visitors are coming round. Attractive and affordable sofa beds now come in all shapes and sizes to fit most rooms. Ottomans are also a fantastic space saver, functioning as a seat, table or bench, as well as a storage container.
5. Underneath the bed
An obvious, but often underutilised, storage space is under the bed. There are many bedframe options that come with in-built drawers (called divans) that won't break the bank. However, if you don't want to splash out on a brand-new bed, then you can always purchase inexpensive storage boxes or fabric organisers to slide under the bed, keeping everything in order and out the way.
Looking for your first home?
Now that you're equipped with the ideas to save space throughout a smaller property, it's time for you to find your first dream home and put them to use! Start your property search on ESPC today and be sure to stay up to date with all the latest advice and guides on our first time buyer guide. For face-to-face advice don't forget to drop-in to our first time buyer event on Saturday 17 September, where you can can talk to one for our friendly experts for free.