Meet our latest first time buyer prize draw winner
Topics
We are delighted to announce that Karen Robb is the winner of our latest first time buyers' prize draw! Karen is the lucky recipient of £3,000 to put towards her first home deposit. She will also benefit from free conveyancing from ESPC agent Deans Properties.
Over 1,000 first time buyers entered this prize draw, which is the highest number of entrants we've ever had! Karen's name was randomly selected after the draw ended and she was presented with her winner's certificate at our Property Information Centre by our CFO, Annie Fleming.
We caught up with Karen to find out how getting advice from a mortgage adviser started her homebuying journey, and how she felt to find out she had won £3,000 towards her deposit.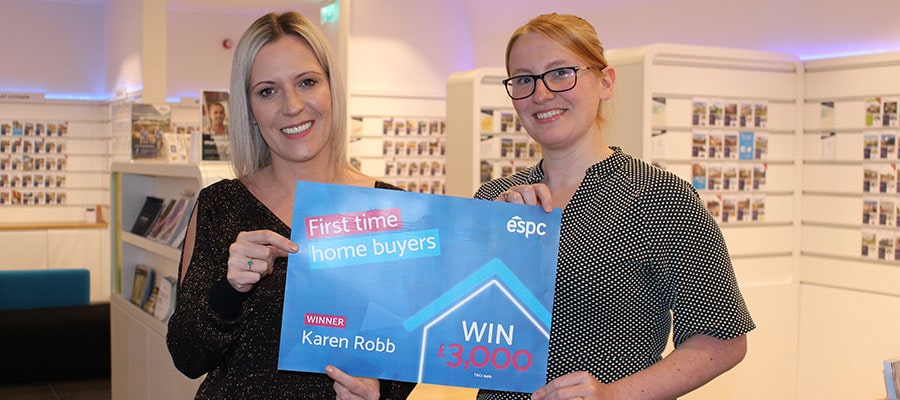 About the winner
Karen is originally from Alness, north of Inverness, and moved to Edinburgh 13 years ago. She currently works as an Account Manager for Sykes Global Services.
Her first time buyer journey began relatively recently and Karen admitted that while purchasing her own home was the ultimate goal, she had always felt it wasn't achievable for now: "To be honest, I thought it was probably out of my reach, being a single person and with property prices in Edinburgh rising so much, so I never really looked into it before now."
However, that changed when Karen spoke to a mortgage adviser last month to get some advice about buying a home: "I was quite surprised because she said the mortgage I could get was higher than what I had thought based on my salary. That's when I realised I could plan and save with an achievable goal in mind'."
The challenges of buying her first home
Karen feels the biggest challenge for her as a first time buyer is that she wishes to remain in Edinburgh, where there is high demand for properties and prices have been rising as a result. However, she's realised that a way to overcome this challenge is to compromise by buying a smaller property than she would have initially considered: "Previously, I'd never have considered buying a one bedroom flat, I always wanted to buy a two bedroom flat. Now I think that even if it's a one bedroom flat, it's still an investment. Speaking to the mortgage adviser helped to change my mind."
Another challenge that Karen faced was not knowing enough information about the process of buying a home: "I didn't know all the ins and outs but then the mortgage adviser explained it to me and it's not as complicated as you think. Once you know what you need, you can start working on it."
Where she would like to buy
Karen currently lives on Lanark Road, close to Juniper Green. That's the area she would ideally like to buy her first home in, but she would also consider close-by districts in the south-west of the city, such as Slateford, Dalry and Carrick Knowe.
Winning the prize draw
After speaking to the mortgage adviser, Karen started looking for properties on espc.com – she noticed the first time buyers' prize draw on the website and decided to enter. She couldn't believe it when she found out she was the winner: "At first, I thought it was a hoax or something! I've never won anything before."
Before she won the prize draw, Karen's aim was to buy somewhere by the end of this year. She said the prize money would "absolutely" help her achieve that goal.
Advice for first time buyers
In terms of advice for other people thinking about buying their first home, Karen said: "Don't be afraid to look into it. A lot of people think 'I could never buy a place, I could never afford it', but you should go to the experts and get advice. It did me the world of good and made me realise that I could do it."
Congratulations Karen – we look forward to hearing more about your homebuying journey.
Find out more
If you're a first time buyer looking for advice, make sure to have a look at our first time buyers' guide or pop into our Property Information Centre to talk to one of our experts.
Didn't win this time? Keep an eye out for news of more prize draws on our Facebook, Twitter and Instagram pages.