ESPC then and now: How we've changed over 50 years
Topics
Much has changed since ESPC launched in 1971, including the technology and systems we use to help our customers buy and sell their homes.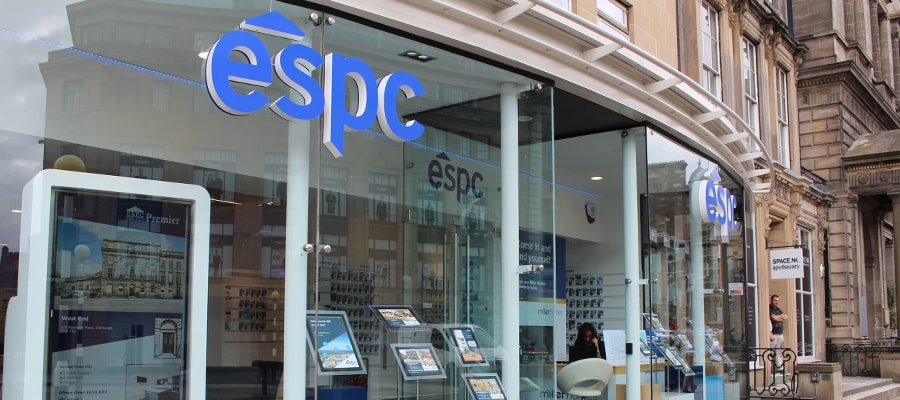 Our showroom
ESPC began in 1971 with the showroom on George Street, which acted as a hub for properties on the market, free information and advice for buyers and sellers.
Today, we're still on George Street (albeit at a different address), and our Property Information Centre remains the go-to destination for those looking for professional property advice and the latest homes on the market.
Previously adorned with wall cards, these days we take an eco-friendly approach, with digital ads, customer tablets and printing on request.
Events and advice
ESPC has always been known for its events, which offer the public a free, easy way to access up-to-the-minute advice from our members and experts.
Our 'Ask the Experts' slots were always popular, allowing people to book a free slot with a solicitor in our showroom, while our free property advice phone service was a great way to get answers to any questions home-movers have.
This service has adapted over the years, and we now offer a range of virtual events and webinars for home-movers, while our phone advice services continues to thrive. Our recent series of virtual events, spanning everything from first-time buyers to local property market updates, were incredibly popular and will be a huge part of our future events calendar.
Technology
Our technology has varied over the years, as huge advancement has meant that we can offer more to home-movers than ever before.
In our early days, we relied on phone calls, posting schedules and paperwork, and inviting movers into the showroom to view properties. These days we have a wealth of technology at our fingertips to help you move home.
In 1997, we launched espc.com, and in 2010 our app was created; both services are now the first port of call for home-movers across Edinburgh, the Lothians, Fife and the Borders.
My ESPC is our online hub, where you can sign up for instant alerts on properties, from the comfort of your sofa.
Printed publications
ESPC has offered a printed publication since 1982, when we launched our weekly ESPC paper – the ultimate place for a property to appear for almost 40 years.
In 2010, we launched our luxury glossy title, Premier Living, which focused on homes at the higher end of the market.
In 2020, we decided to discontinue both the ESPC Paper and Premier Living, replacing them with ESPC Magazine.
A changing world
Post-Covid-19, ESPC has had to adapt, and ensure that our members and clients are kept up to date with the latest developments and Government guidance.
Pre-2020, open days were the most popular way to view properties, and a property could have 20 or 30 households visit in one afternoon. Today, individual private appointments have rapidly become the norm for viewing properties.
Our technology and advice has developed to support this too; since 2020, we've encouraged our member firms to include virtual tours when listing a property. Virtual tours help prospective buyers make informed decisions about whether to view properties, encouraging a virtual-first approach to viewings that we see continuing into the future.