Top garden design trends this summer
Topics
As the weather gets warmer, you may be looking to update the outdoor spaces of your home. Some of the leading designers from the Society of Garden Designers reveal what they expect the top trends in garden design to be this summer, including the planting, landscape materials and design styles we can expect to see.
For more inspiration for updating your home, check out the latest issue of Premier Living.
Wildflower meadows
Expect to see a wilder and looser form of planting in 2019. Louise Harrison-Holland said: "This wilder style has been helped along by the increasing use of instant wildflower meadows. I see designers trying to recreate this look with a mix of herbaceous perennials and grasses that have a more permanent structure, helped by the increasing use of shrubs in planting borders." Louise also thinks designers will work with a greater number of varieties of plant types to create a looser style.
Lots of designers have been experimenting with wildflower and perennial meadows, and the positive news is you don't need a large plot to incorporate them into your gardens. Sue Townsend commented: "I've really enjoyed creating small-medium sized meadows in many of the gardens I have designed this year. The most exciting venture was sowing my first perennial meadow." While this can take a few years to establish, once it has, it will provide interest from April to late November with relatively little maintenance.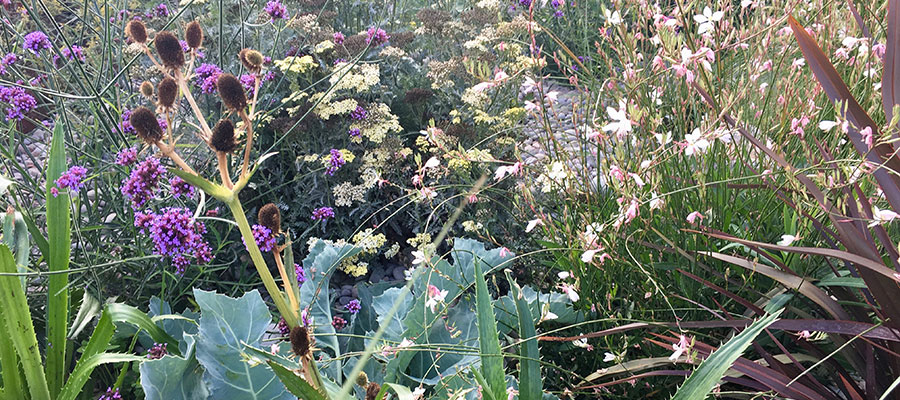 Outdoor hideaways
Demand for outdoor hideaways is increasing, whether they're to be used as teenage hangouts or simply as a relaxing space to get away from the house. From installing summerhouses to creating an outdoor seating area with firepits or even kitchens, this is a great way to add more space to your home.
Karen Rogers thinks the interest in creating outdoor teenage hangouts will gain momentum in 2019 and she normally designs them with secluded garden buildings or separate seating areas with outdoor fire pits or fireplaces. She said: "These spaces require clever screening from neighbours as well as good lighting and planting that absorbs as much noise as possible."
Joe Perkins adds that the trend for fire pits and outdoor kitchens will continue into 2019 as gardens are increasingly seen as the setting for shared experiences with friends and family.
Vibrant colour
There's been an increasing trend of using pops of colour to make statements inside the home, so it's only natural that this use of vibrant colour is making its way outdoors. Sue Townsend predicts sizzling jewel colours are set to make a return to gardens in 2019. While Barbara Samitier said: "Don't be surprised to see a shift towards orange and even yellow which has taken a back seat in many gardens of late."
Joe Perkins is seeing a trend in younger garden enthusiasts looking to style their outdoor space as they would their room, using brightly coloured accessories and furniture. He advises that simplicity and repetition are the keys for success here.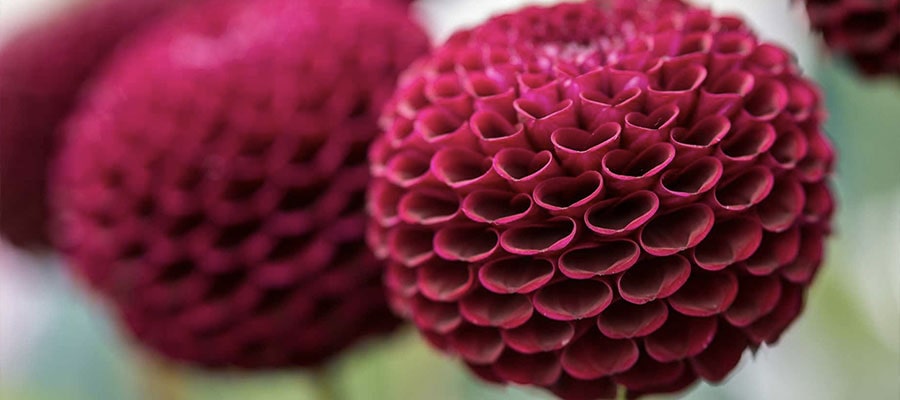 Climate change gardening
After early spring snowstorms and one of the hottest summers on record last year, it only makes sense that keen gardeners are looking to create gardens equipped to deal with the UK's ever-changing weather conditions. Sue Townsend has been creating ecological gardens to cope with extreme weather patterns. She advises to plant the right plants for the conditions of each garden, to store water and to allow excess water to be collected then dissipated through the soil.
Joe Perkins agrees and has been frequently designing planting schemes which are drought resistant. He's noticed clients are less inclined to use irrigation systems, as they feel it is more environmentally responsible to use plants which can fend for themselves.
Log walls and metal landscaping
If you're looking to add a stylish statement to your garden then Barbara Samitier recommend log walls: "They can act as a feature wall, a boundary or a screen while providing a necessary habitat for insects and a wide range of wildlife."
She also predicts that we will see more metal in gardens. She has been designing metal arches and pergolas for many of her current projects, and has incorporated metal walkways, mirrored stainless steel and perforated Corten steel in her gardens for walls and pergola roofs.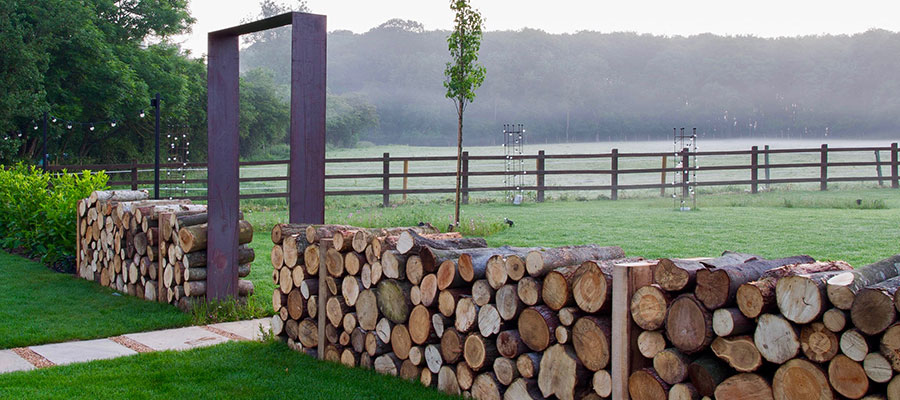 Premier Living
This article was featured in the latest issue of Premier Living, ESPC's bi-annual magazine which is packed full of interior inspiration, luxury properties and lifestyle tips. Read the full spring/summer 2019 issue of Premier Living.