If you are looking to gain maximum exposure for your high value property in Edinburgh and east central Scotland, all you need is ESPC!
Market your property
ESPC's Premier offering ensures that property at the higher end of the market gets the promotion that it needs. ESPC's strong local presence, established reputation and unrivalled marketing helps you gain maximum exposure for your high end property. ESPC solicitor estate agents are able to handle every aspect of a property transaction, from the initial marketing to collecting your key – both the estate agency and legal aspects are handled by one firm, ensure your home selling process is as smooth as possible.
If you are thinking of selling your property, our network of around 140 solicitor estate agents mean that whatever your requirements, there will be a solicitor who can meet your needs. In addition to our regular marketing, which includes access to our sophisticated database of over 110,000 clients, Premier clients have the opportunity to feature in our biannual Premier Living magazine.
Premier Living magazine
Premier Living magazine is our biannual lifestyle and property magazine which focuses on some of the most luxurious properties on offer in east central Scotland along with interior design tips, food and travel.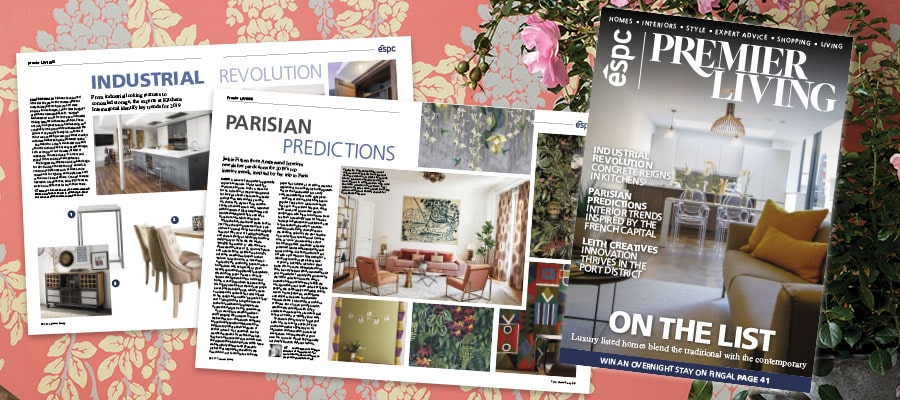 In our Spring/Summer 2019 issue, find out about some of the must-have pieces of furniture and accessories to get to make the most of the floral and Living Coral trends currently dominating interiors. Jackie Fisken from Ampersand Interiors predicts 2019's top interior trends inspired by her recent trip to Paris. Plus, we catch up with three developers about their recent listed home developments in the city, chat to three Leith-based entrepreneurs about why the area is a great place to set up a creative business, find out the top garden design trends from the Society of Garden Designers and Kitchens International reveal what the most popular kitchen styles area at the moment. 
In the latest issue of Premier Living, we also catch up with legendary musician Barbara Dickson, reveal the latest premier property market news and showcase a selection of the top properties currently or recently advertised on espc.com
Collect your free copy of Premier Living at our Property Information Centre or read our online version here. 
Please contact us if you'd like to order a copy or if you'd like any previous issues.