Five steps to bring your home to market
Topics
House moves and related activities, such as property sales and valuations, are permitted under current COVID-19 restrictions.
This means that those looking to sell a property can prepare, list and advertise the home for sale by allowing agents, surveyors and photographers into a property. However, health and safety are of the utmost importance and so the processes involved with marketing your home are different to before COVID-19.
Read the full guidance from the Scottish Government on house moves.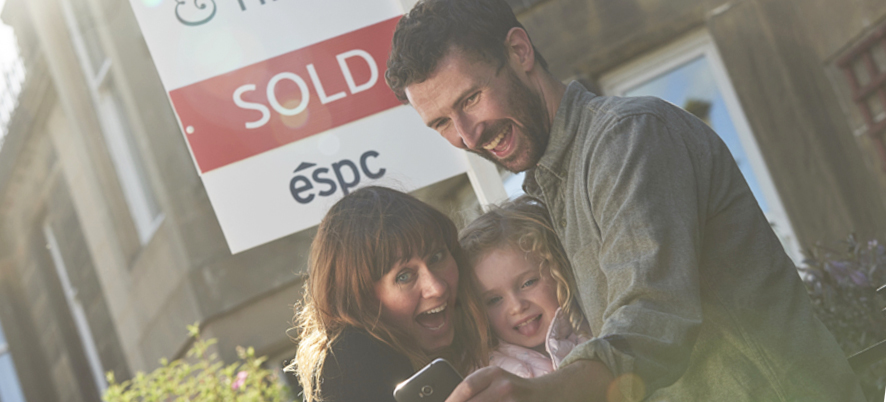 This will include doing more of the process online and ensuring that you continue to follow government advice on physical distancing, hand washing and respiratory hygiene. The Scottish Government has also advised you wear a face covering when in contact with other people from outside your household involved in activities related to buying or selling your home.
If you or anyone in your household displays symptoms of COVID-19, you should not invite any businesses or people to your property for the purpose of marketing your home. You will need to self-isolate for the correct amount of time.
Clinically vulnerable and shielded individuals will need to carefully consider their personal situation and the circumstances of their own move and may wish to seek medical advice before deciding whether to commit to or go ahead with a move.
If you would like to sell your property, we've outlined the key steps to bringing a home to market in the current situation below– if you have any questions, you should get in touch with an ESPC agent who will be happy to assist.
1. Property valuation
Getting a property valuation from an agent is the first step to selling a home. The restrictions in the earlier stages of lockdown in 2020 meant that you could not invite an agent to your home to get a valuation. As a result, many ESPC agents began offering virtual valuations over video call to provide sellers with an estimated value of their property.
Some agents still offer virtual valuations so this might be a good place to start if you want to minimise the number of agents who visit your property
However, you can invite an ESPC agent to value your property in person. If you do this, you should take care to follow government guidance on physical distancing, hand washing, respiratory hygiene and face coverings. You should also clean the property before and after the visit.
The agent should also contact you in advance to let you know what to expect and steps they will be taking to maintain health and safety during the visit.
Arrange a free property valuation with an ESPC agent.
2. Photography
In order to market your property, you will need photographs taken by the agent or a professional photographer.
When the photographer attends your property, they should take care to follow government guidance on physical distancing, hand washing, respiratory hygiene and face coverings. You should also clean the property before and after the visit.
It is likely the photographer or agent will also get in touch in advance to let you know what to expect and any further
3. Home Report
Most properties in Scotland need a Home Report before they can come to market. Surveyors can attend properties in order to produce these Home Reports. Your agent will normally arrange a Home Report and the surveyor's visit for you.
Social distancing should be maintained at all times. You should clean the property before and after their visit. The surveyor should also contact you before any home visit to let you know what you should expect and what steps they will be taking to ensure the visit meets health requirements.
Scottish Government guidance advises that surveyors should wash their hands upon entering the property or bring their own hand sanitiser. You should allow access to hand washing facilities, using separate towels or paper towels if possible, which should be washed or disposed of safely afterwards.
If a survey is being carried out in your home, you should ensure the surveyor has access to all the parts of the property they need to inspect, and either vacate the property or seek to minimise contact with the surveyor, for example by staying in another room whilst they are inspecting your home.
You should spread out visits from agents, photographers and surveyors so you don't have multiple visitors to your house at the same time.
4. Viewings
In person viewings are allowed, but the advice from the Scottish Government is for buyers to view a property virtually in the first instance if possible. Some agents offer 360 virtual tours and videos as part of their property marketing package – you should speak to them about what they can offer, so they can arrange to get the necessary footage of your home.
Once your home is on the market, interested buyers may wish to view it in person after viewing it virtually (if you are offering virtual viewings). Your agent will discuss the process for this with you.
Find out more about staying safe during property viewings.
5. Speak to your solicitor estate agent
Once your home is on the market, your solicitor estate agent will keep you updated with regards to enquiries, viewing requests and offers. Be prepared to be flexible as the process of selling your property may take longer than usual – if any parties involved in the sale or purchase presents COVID-19 symptoms, viewings and house moves will need to be delayed.
The Scottish Government has advised that anyone thinking of selling a property should speak to a solicitor. These are uncertain times but ESPC solicitor estate agents are able to help you at every step of selling your home. They can offer expert advice you on the processes and current guidelines, in order to ensure you can bring your home to market while staying safe.
You may also be interested in...