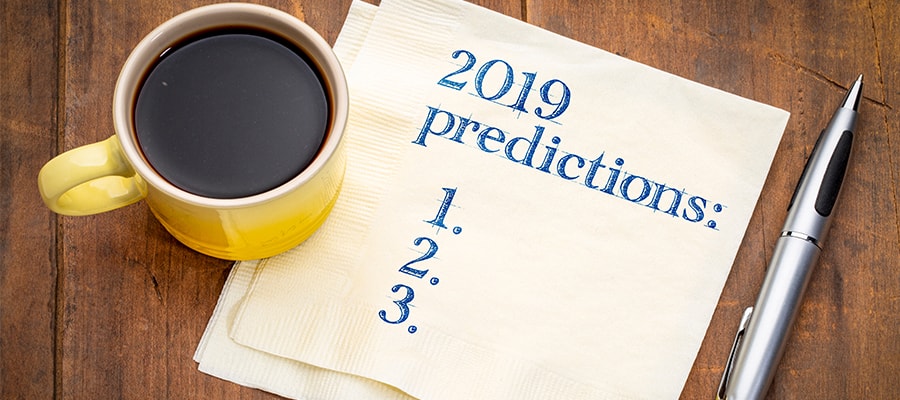 Making predictions for the coming year is a difficult task; no one has a crystal ball and when you factor in the pending Brexit agreement then it becomes even trickier. However, here are some of my predictions for 2019, based on activity in the mortgage and property market in 2018.
There is no doubt that in 2018, it remained a seller's market for much of the year due to lack of stock available and plenty of willing buyers, which meant competition was aggressive and sale prices regularly achieved well over the Home Report valuation. Data from ESPC's October and November 2018 House Price Reports revealed an annual increase in the number of homes coming to marked in east central Scotland of 10.9% and 14.1% respectively, which is a positive sign for buyers. Hopefully this continues into 2019.
Another helpful market condition which supports a positive trend is that interest rates are still very low, meaning potential payments for borrowers are more affordable. We have had one rate rise recently and it is forecasted there may be more rises in 2019. However, these are still good times for borrowers and any increases are likely to be gradual and incremental, which should give prospective buyers peace of mind for the next two to three years.
Mortgage lenders also have greater confidence and they are showing an increased appetite to lend money, which, in turn, is providing increased competition. This can only be good for the client. More mortgages are now readily available with a greater number only requiring a 5% deposit, meaning more people can be helped and are able to stick to an affordable budget. This should be a good motivation to first time buyers in particular, who are renting at present and therefore, in essence, paying someone else's mortgage.
However, the challenge for many clients with smaller deposits has been properties going for well over their Home Report valuation and as mortgage lending is based on the purchase price or valuation, whichever is the lower figure, this means any price paid over the value cannot be used as part of the deposit for mortgage purposes. This makes the money required to purchase a property typically higher than the advised 5% deposit.
As mentioned previously, one of the unknown variables and what makes the year particularly difficult to predict is Brexit and what impact it will have on the property market. Lack of stock in the market may be partly because of this and hopefully as things become clearer then we may see more activity, but the positive news is the Edinburgh market seems more robust and equipped for this than other parts of the country.
To summarise, we at ESPC Mortgages remain optimistic for 2019 – the mortgage market is fiercely competitive and there are some great deals available. The team look forward to this continuing throughout 2019 and to another successful year of mortgage approvals and helping more people get their dream property. We'll also be readily available to help existing and new clients review their existing mortgage arrangements to ensure they have the most suitable solutions during their mortgage journey.
As independent mortgage advisers, ESPC Mortgages can help with all aspects of understanding your budget, applying for a mortgage and dealing with the relevant insurance requirements. Pop in for a no obligation chat with David or one of the team at our Edinburgh Property Information Centre or give them a call on 0131 253 2920.
The information contained in this article is provided in good faith. Whilst every care has been taken in the preparation of the information, no responsibility is accepted for any errors which, despite our precautions, it may contain. No individual mortgage advice is given, nor intended to be given in this article.
The initial consultation with an adviser is free and without obligation. Thereafter, ESPC Mortgages charges for mortgage advice are usually £350 (£295 for first time buyers). YOUR HOME MAY BE REPOSSESSED IF YOU DO NOT KEEP UP REPAYMENTS ON A MORTGAGE OR OTHER LOANS SECURED AGAINST IT.