First time buyer mythbusters
Topics
At ESPC we want to help first time buyers to get onto the property ladder. Here are our mythbusters on buying your first home.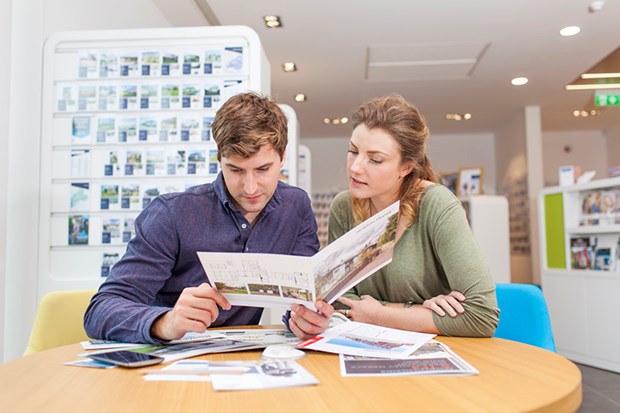 We've got a free drop-in first time buyer event on Thursday 21st April, from 4.30pm to 6.30pm at our 107 George Street showroom, so come along for some great advice from our expert.
Concern 1: I'm not going to be able to save up a big enough deposit
There have been some concerns raised recently regarding first time buyer deposits. Some analysis has alleged that first time buyers will not be able to purchase their first home without having at least a sum of £20,000 to £40,000 available as a deposit.
However, there are more and more first time buyers entering the market as the minimum deposit with the majority of lenders is now 5%. After the crash in 2008, borrowers were required to have 10% deposits minimum, which made it difficult for first time buyers to save up enough. However, over the last two years this has been lowered.
Peter McGregor of ESPC Mortgages says: "Throughout 2015 and now into 2016 my colleagues and I have consistently been arranging mortgages where our clients only have the minimum 5% deposit. Due to low interest rates and a competitive lending market, subject to meeting lending criteria, a purchase of a property with a £150,000 valuation would only require a deposit of £7,500. Likewise a purchase of a property with a valuation of £120,000 would only require a deposit of £6,000. With a bit of determination and hard saving these sums are achievable and this is evidenced in the number of first time buyers we are helping to achieve the goal of buying their first home.'
Concern 2: Prices in Edinburgh are too high to be able to afford a flat.
Our recent House Price Report has revealed that while property prices are increasing as a whole, it is still possible to buy a good one bedroom flat in the city. Areas like Leith, Bonnington and Easter Road are still popular places for first time buyers, but our figures suggest that Gorgie, Dalry, Shandon and Polwarth have taken over as the most popular place for first time buyers, with prices rising due to demand.
The average price of a one bedroom flat in Leith Walk and Easter Road is £121,000, and in Dalry and Gorgie it's £114,085, but bear in mind that these are averages – so there will be variables, and you could find somewhere for less than these prices.
Concern 3: Is it wise to get a mortgage with only 5% deposit?
If you are worried that a low deposit will mean you pay higher when it comes to monthly repayments, there are a number of schemes that can assist you in this.
Lift is a shared equity scheme which is available for properties on the open market. The government and the private house builder will jointly fund an interest-free equity loan for you and each hold a security over the proportion of your home they have funded.
The Scottish Government launched the Help to Buy (Scotland) Affordable New Build and Help to Buy (Scotland) Smaller Developers schemes on 21 January 2016.
The prices of homes supported by the scheme in this three year initiative will progressively reduce each year, with a maximum value of £230,000 in 2016/17, £200,000 in 2017/18 and £175,000 in 2018/19 therefore now is the ideal time to look into this option further in order to apply for a larger value property.  The Scottish Government will contribute a maximum of 15 per cent equity stake.  Further information including an information from the government will be available in the coming weeks.
There is also the Help to Buy: ISA, a scheme to help hard-working people take steps to buying a home. The new Help to Buy: ISA pays first time buyers a government bonus. For example, save £200 a month and they'll add £50, up to a maximum of £3,000, boosting your ISA savings of £12,000 to £15,000. You can find out more about this scheme at www.helptobuy.gov.uk/help-to-buy-isa/how-does-it-work
Concern 4 – I don't have a good enough credit score
There are ways you can improve your credit score. Paul Demarco of ESPC Mortgages says: "make sure you do not miss any payments or be late on anything like credit cards. Open up a credit card and use it but always pay it off as much as you can and leave minimal debt on it."
As independent mortgage advisers, ESPC Mortgages can help will all aspects of understanding your budget, applying for a mortgage and dealing with the relevant insurance requirements. Pop in for a no obligation chat with one of the team at our Edinburgh showroom or give them a call on 0131 253 2920.
The information contained in this article is provided in good faith. Whilst every care has been taken in the preparation of the information, no responsibility is accepted for any errors which, despite our precautions, it may contain.