ESPC goes Black and Red
Topics
ESPC, a proud official partner to Edinburgh Rugby, is delighted to be supporting the team in the run up to the big Heineken Cup match by turning things a bit black and red in honour of the team and their amazing Heineken Cup run.
Our first season as an official partner to Edinburgh Rugby has been a very exciting one and at times a bit like a rollercoaster. There have been disappointments in the league. However, these have been easily overshadowed by the great matches at Murrayfield in the Heineken Cup.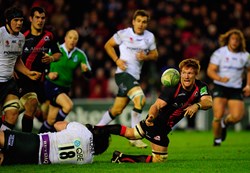 Who can forget the amazing comeback against Racing Metro 92. Many people have described this as the best rugby match they have ever watched.
Now that Edinburgh have made it to through to the quarter finals the challenge has stepped up a level as the French giants Toulouse come to Edinburgh on 7th April.
With a crowd in excess of 30,000 expected through the gates of Murrayfield at 3pm that Saturday, ESPC is showing our support of Edinburgh Rugby by turning the mast head of our newspaper and website black and red for a week. We are big supporters of Edinburgh Rugby and many of our team will be cheering their team on this Saturday afternoon.
You still have a chance to join in and back the team. There are reduced ticket prices until midnight on Thursday. To book your tickets visit the club website.
ESPC Murrayfield fact: in February 2012 homes for sale in Murrayfield on espc.com were viewed an average of just under 200 times a week.