Buyers make offers after viewing properties virtually - ESPC agents report
Topics
The current lockdown restrictions in place in Scotland as a result of the Coronavirus COVID-19 pandemic mean in person property viewings aren't currently available. However, many ESPC agents have adapted to offer virtual property viewings.
Stacey Wilson, Director at VMH Solicitors, commented that virtual property viewings have become an important part of the buying and selling process during this time and she expects this to continue in the "new normal" after lockdown.
She said: "Video tours and virtual viewings have become the norm in this period of lockdown with sellers and their agents looking for innovative ways to show property whilst still adhering to the Scottish Government's stay at home message. Virtual viewings give sellers and buyers access to a platform that will likely become integral in how we actively market and sell property.
"It is expected that changes to the way in which solicitor estate agents work will continue for some time to come and virtual viewings, video tours and an interactive approach to marketing is key to ensure clients are receiving the best possible exposure."
But just how effective have virtual viewings been in terms of generating offers for properties? Well, a number of ESPC agents have reported offers being made for properties with virtual viewings available. We take a look at these in more detail below.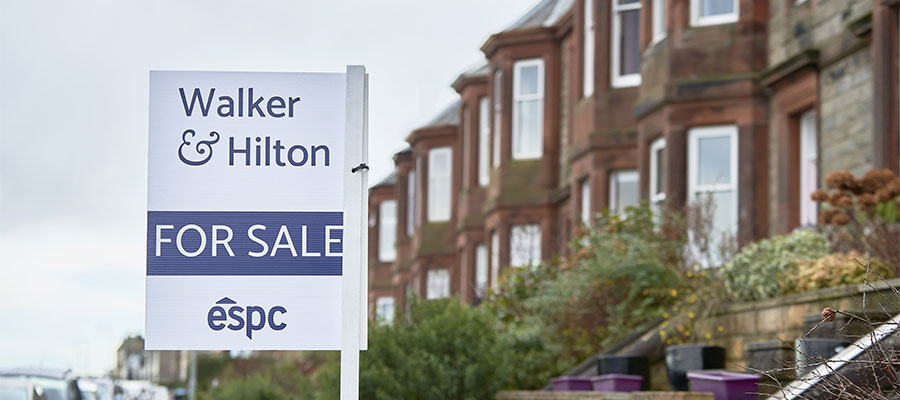 What kind of virtual viewings are being made available?
ESPC agents are making a range of different virtual viewing options available, including live video viewings with the seller, pre-recorded videos and 360-degree video tours.
In the examples provided by ESPC agents where offers were made, a range of the above formats were used, highlighting that no one specific form is being particularly favoured by buyers or sellers.
Who is making offers after viewing properties virtually?
From the examples provided by ESPC agents, a mix of different buyers are choosing to offer after viewing a property virtually. Stacey Wilson from VMH Solicitors reported two offers they've received are from first time buyers, while the other two are from investors.
Eileen Henderson, Senior Sales Consultant at Blackadders LLP, said they received an offer from an overseas investor, and another from someone looking to upsize, but is not dependant on the sale of their property in order to proceed.
Kerry Wells, Property Sales Director at Boyd Property, received an offer from a home mover who knew the area well. Ron Hastings, Director of Borders-based Hastings Legal, reported that they received an offer on a property near Kelso from a London buyer looking to relocate. While Jill Andrew, Principal Associate at Shoosmiths LLP, received an offer on a fixed price property from a family looking for a house with a garden.
The range of different buyers that are choosing to offer on properties highlights that there is a mix of people who are still interested in buying a home, despite the current restrictions. The motivations for buying and moving remain similar to usual, including getting on the housing ladder, finding a bigger home, relocating and investing in a buy-to-let property.
Are people offering subject to an in person viewing when lockdown restrictions are eased?
We have received reports from agents of buyers choosing to offer or note interest in properties subject to an in person viewing when it is safe to do so.
Out of the cases provided for this article, there were a mix of those who have offered subject to an in person viewing and those who are happy to offer and purchase without a physical viewing of the property.
For example, of the offers reported by Stacey Wilson at VMH Solicitors, the two made by first time buyers were subject to in person viewings, but the other two made by investors were not.
Are these offers at Home Report valuation?
In the examples provided for this article, most of the offers made were at or above Home Report valuation. For ones that weren't at Home Report valuation, this is generally because the property had been on the market for a while.
Will ESPC agents continue to offer virtual property viewings after lockdown restrictions have been eased?
Adapting to offer virtual property viewings is a key way ESPC agents have been able to continue providing valuable services to property buyers and sellers during these uncertain times. It seems that several ESPC agents plan to continue offering this service as lockdown measures are eased, to continue offering flexibility in terms of viewing options.
Kerry Wells from Boyd Property said that they already include 360 degree video tours in their property marketing package. And Ron Hastings from Borders-based Hastings Legal said: "As many of our buyers  live further away, we see this as a useful promotional tool for future marketing and in the new normal post lockdown." 
Find out more
Search all properties for sale on ESPC and find out about viewing options by clicking the "request a viewing" button on the property you're interested in.
If you are interested in making an offer on a property after viewing it virtually, you should speak to a solicitor estate agent who can provide you with advice and insight into the buying process in Scotland.
You may also be interested in...