Buying a house or flat in Scotland with ESPC
Topics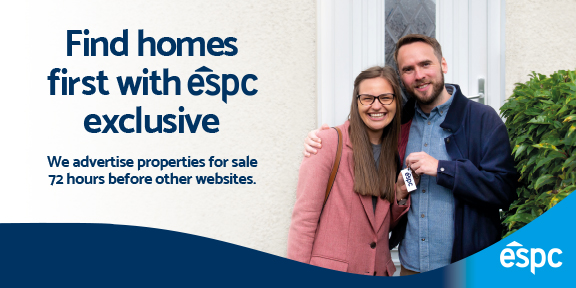 ESPC brings you hundreds of new houses or flats for sale in Edinburgh, Lothians, Fife, the Borders, Central and West of Scotland and Dumfries and Galloway before other websites.
Helping you can find your new home before anyone else!  Here's how…
1. Find homes first with ESPC Exclusive
ESPC advertises hundreds of houses and flats for sale 72 hours before any other property website.
It's easy to spot ESPC Exclusive properties with our bright blue Exclusive sticker
With high competition for houses and flats in Scotland, they are being sold very quickly – ESPC Exclusive helps get you ahead of the crowd when looking for your dream home.
Search for ESPC Exclusive properties
2. Be the first to know about new properties for sale with My ESPC
Sign up for a My ESPC account and you can input all your requirements for your new home, including area and number of bedrooms
When a new property comes on the market that matches your requirements, we'll send a notification straight to your email inbox
Trying to search for a house or flat that ticks all the boxes can be tricky –My ESPC helps you to narrow your search so you can save time and find the right house or flat first.
3. Get all the relevant property information first on espc.com
On our website and app, we ensure our property listings display relevant information you need to know, including council tax bands and local schools
To find out further details, Home Reports can be easily requested by clicking the Home Report link on a property listing
There are a lot of different factors that affect whether a house is the right for you – by providing crucial information from the outset, we can help you make that choice as soon as possible.
What next?
Search for new houses and flats to purchase on ESPC now and sign up for a My ESPC account to ensure you don't miss out on the latest properties coming to market.
If you need financial or legal advice on buying a house or flat in Scotland, pop in to our George Street Information Centre in Edinburgh to chat to our experts, who can provide free advice on all aspects of buying a house or flat, from what size of deposit you'll need to how making an offer works.