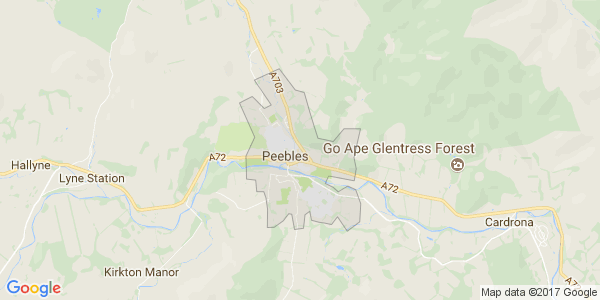 Nestled within an area of outstanding beauty and only 23 miles south of Edinburgh, the Borders town of Peebles sits straddling the majestic River Tweed.
A Royal Burgh since 1152 and the rule of King David I, Peebles has for many years been a market town cherished by locals and visitors alike for its picturesque and unspoilt character.
The town has something for everyone, from outdoors activities like fishing, walking, golf, cycling and horse riding to fine shopping, award winning restaurants and outstanding accommodation to suit all budgets.
Peebles is also widely recognised as an arts destination town and many visitors make the trip to enjoy the wide range of local contemporary and traditional art available.
Peebles is also a festival town with a number of spectacular annual celebrations taking place. The famous week-long Beltane Festival showcases local legend, traditions and history; the Rugby Sevens tournament; music takes centre stage with the Peebles Jazz Festival and the renowned Arts Festival grows in stature each year.
Peebles also has the distinction of being ranked as the Top Independent Retailing Town in Scotland, and second in the UK, for its range of independent shops and 'home town' identity in contrast to the ubiquitous 'cloned towns' predominant in other areas.
Whether you are looking for a house, flat, bungalow, apartment, new build or any other kind of property for sale or for rent, ESPC may have the one in Peebles that you are looking for.