If you're looking for houses for sale in Dunfermline then you've come to the right place.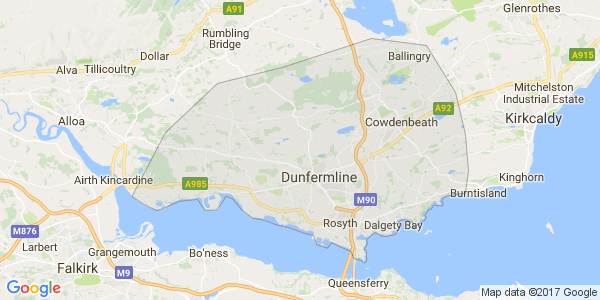 About the area
The northern shoreline of the Firth of Forth edges historic Dunfermline. This Fife Council town, with its Neolithic roots, was a key contributor to the textile industry before the onset of the Second World War.  It now serves as business hub to Fife's western areas and attracts big-brand businesses such as Amazon.com who recently set up home in the form of their largest UK warehouse.
Dunfermline Abbey is perhaps one of the district's most notable landmarks and some of its original structure dating back to the 11th Century still exists.  Beautiful old buildings such as Abbot House, circa 15th Century, abound and the Dunfermline Carnegie library; nurtured by Andrew Carnegie, one of the town's most generous philanthropists.  Stately homes dot the outskirts of town and the delightful Pittencrieff Park remind the citizens of their historical benefactors.
Growth and development
An exciting development is the 'motor mile' development proposal which would boost the already strong vehicle sales industry.
Stirling Developments, a local property development company, strive to highlight Dunfermline's economical potential and point out that the nearby deep-water Port of Rosyth has developed into an efficient European passenger ferry and freight terminal; international connections are being forged this way and as such make Dunfermline an attractive investment opportunity.
Lifestyle and entertainment
Just 2 miles to the east of Dunfermline is the successful Fife Leisure Park; its 35 acre site hosts an Odeon Cinema, Bowlplex and the largest Bannatyne's Health and Fitness complex to name but a few of the quality venues.  A veritable list of food halls such as Pizza Hut, Frankie and Benny's, Nando's, etc. are easily accessible in this wonderful complex with no shortage of parking spaces. Keep the family entertained with a day out the Scotland's secret bunker in East Neuk or stretch your legs on Dunfermline's golf course.
A great time can be had at Knockhill, the Scottish National Motorsports Centre, or perhaps contemplate the beautiful countryside at Loch Leven. Book a seat for one of the theatrical productions at the Alhambra Theatre; these include musicals, dance recitals and comedy shows.  Outdoor activities at the Waterksi and Wakeboard Scotland can be found at Town Lock; set within lovely surroundings of Townhill Country Park; try out your skills with fully qualified coaches at competitive prices.
Find your home in Dunfermline
Dunfermline is just 15 miles North West of Edinburgh, giving easy access to the city for commuters and has a good choice of both primary and secondary schooling,  Carnegie College assists students in obtaining valuable degrees as it is partnered with Edinburgh's Napier University.  Perth is a short journey to the north with Kirkcaldy to the east.  With a bus station and 2 railway stations in Dunfermline, this centrally placed town could be the perfect place to set up your home. Visit the ESPC showrooms or collect the weekly ESPC Paper for current sales and rentals.