Ten reasons why people love living in the Scottish Borders
Topics
With beautiful scenery and a fantastic choice of property, it's no surprise that the Scottish Borders is a popular area. 
In this article, we look at some of the top reasons people love living in the Scottish Borders. 
Search all properties for sale in the Borders
1. Rolling hills and countryside
If you crave open space, then the Scottish Borders could be perfect for you. Many of the towns and villages are surrounded by vast fields and woodland or nestled under hills.
You only have to take in the outlook over the Eildon Hills from Scott's View to see just how stunning the area is.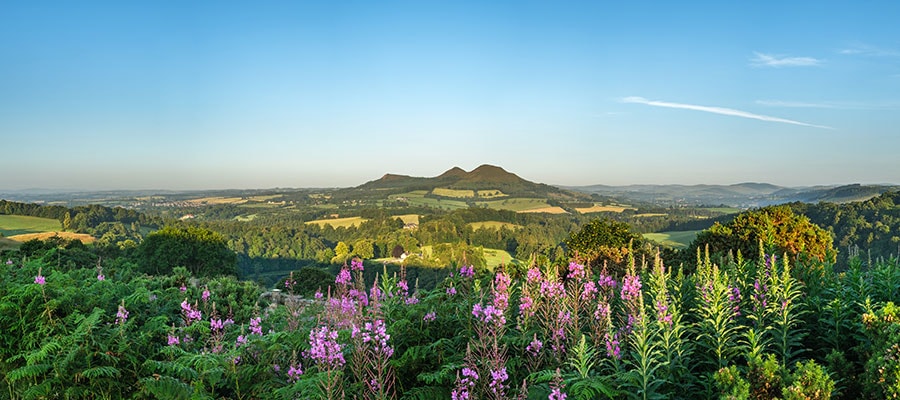 2. The beautiful coastline
But for those who prefer to be near the beach, the Borders also features a breathtaking coastline. St Abbs, with its rugged cliffs and nature reserve, is a particularly popular spot for day trips.
Even Hollywood recognised the beauty of the Borders coast by featuring St Abbs in the last Avengers movie.
3. Outdoor pursuits
And if you like spending time outdoors, not only is there a fantastic selection of walking and cycling routes, but the Scottish Borders also offers top-class fishing spots while water sports such as surfing, swimming and diving are popular in the seaside towns.
For equestrian lovers, horse riding is another common activity in the Borders. And of course, the area is known for its rugby. The annual Melrose Sevens, which is the oldest rugby sevens competition in the world, is a hugely popular event.
4. Stunning homes
There is a fantastic range of houses and flats across the different towns and villages of the Borders.
Whether you're after a rural property for sale, a stylish conversion which blends old and new features or even a home with equestrian facilities, there is likely to be something that will work for you.
Search all properties for sale in the Scottish Borders.
5. More for your money
A key incentive for those looking to make the move from the city to the Borders is that generally you can get more for your money when it comes to property. With many people now seeking more living space to accommodate home working, it's unsurprising that the prospect of a bigger and often more affordable home in the Borders is very appealing.
From November 2020 to January 2021, the average property selling price in the Borders was £263,283 while properties in Edinburgh sold for an average of £281,386.
6. Picturesque towns and villages
In addition to a great selection of houses and flats, the Scottish Borders is home to a range of beautiful towns, villages and hamlets with fantastic communities, so you can find the right base for you.
If you've always wanted to live by the seaside, try the pretty town of Eyemouth. While those looking for a semi-rural lifestyle close to the Scottish capital may wish to consider West Linton. And if you love hill-walking, Lauder is positioned on the western edge of the Lammermuir Hills. 
For others looking for something closer to the city life they are leaving behind, Galashiels is the biggest town in the Borders followed by Hawick, while Kelso and Peebles blend the benefits of town life with the charm of the countryside.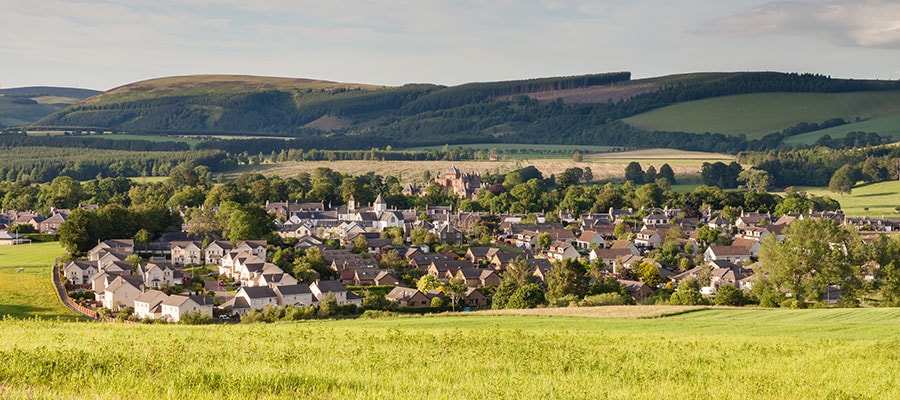 7. Excellent schools
For families, choosing a home near a good school is very important. And that's another reason the Borders is a great place to live – the area is renowned for its selection of well-regarded schools.
If you're looking for a home near a specific school, use our search by school catchment tool.
8. Independent shops and cafés
While you may be worried about missing out on the stores and eateries of the city, many of the towns in the Borders are home to an array of charming independent shops and cafés to try out.
And if you do need to get back to the city for any reason, it's no hassle to get there, which brings us to…
9. Transport links
Many more people are working from home but for those who do need to commute into the city for any reason, the Scottish Borders is well-connected with Edinburgh and Newcastle via excellent road links.
And the reopening of the Borders railway in 2015 means the area benefits from rail services to Midlothian and the capital. While those hoping to commute south to London can jump on the train at Berwick-upon-Tweed.
10. A rich history
Like much of the rest of Scotland, the Scottish Borders has a rich and varied history which is reflected in its towns and villages.
You can see the ruined abbeys in Melrose, Kelso, Dryburgh and Jedburgh on foot or bike via the Borders Abbeys Way. There's also plenty of stately homes to discover, including Traquair House.
And, of course, due to its position on the border of Scotland and England, the area is filled with historic battlefield sites to explore.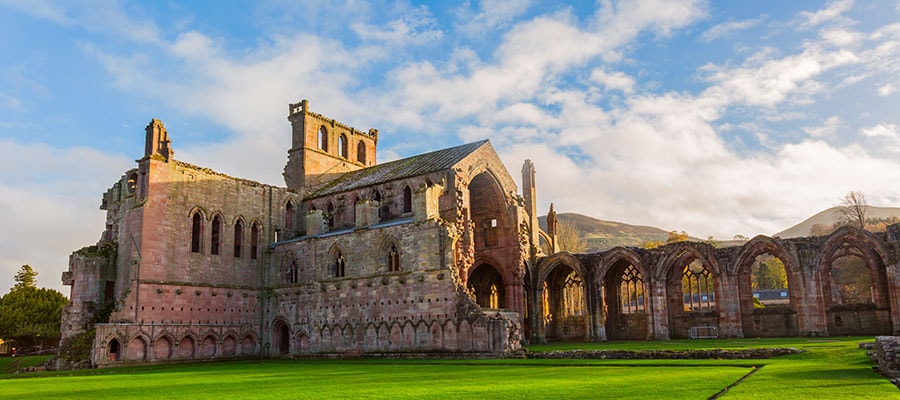 What our agents have to say
Don't just take our word for it, here's what a couple of our Borders-based agents have to say about the benefits of living in the Scottish Borders.
Cathy Copson, Relocation Advisor at Hastings Legal, said: "Thinking of your own escape to the country? The Scottish Borders offers a uniquely different lifestyle and an outstanding quality of life.
"We are seeing more people looking to move to the Borders from down south and overseas as people recognise what an absolutely fantastic and still relatively undiscovered part of the UK this is."
David Kilshaw, Partner at Cullen Kilshaw, said: "There are so many reasons the Borders is a great place to live - the outstanding scenery, the great sense of community that is true of all Border towns and that is seen to best effect during the summer festivals, the quality of education on offer and the wide range of leisure pursuits, all within an hour's drive or train ride of our capital city."
Find houses and flats for sale in the Scottish Borders
Search all properties for sale in the Scottish Borders and sign up to My ESPC so you don't miss out on new homes coming to market.
Find out more about how to buy a house or flat in Scotland.
You may also be interested in...