Five reasons why East Lothian is perfect for outdoor enthusiasts
Topics
With a fantastic selection of homes, highly regarded schools and good transport links, the towns and villages of East Lothian attract many different types of property buyers, from young families to those entering retirement.
The strong demand for homes in the area is illustrated by some market statistics. In the last three months of 2020, properties in East Lothian saw a 6.3% year-on-year increase in average selling price while the median time for a property to be placed under offer fell to 17 days compared to 26 days in 2019.
Search all properties in East Lothian for saLE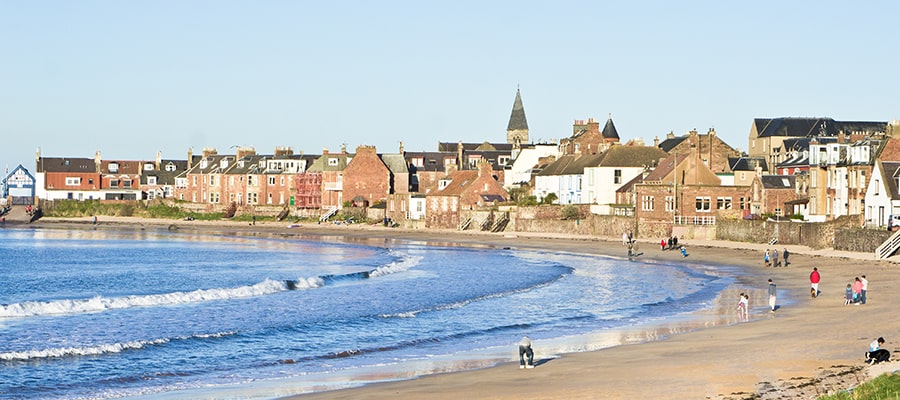 East Lothian is a particularly great base for those who love spending time outdoors – here's why…
1. Beautiful beaches
From Longniddry and Aberlady to North Berwick and Dunbar, many of East Lothian's towns and villages are perched on its beautiful coastline, which means there is a range of watersports activities on offer.
Whether you are a keen surfer, into open water swimming or enjoy a bit of paddle-boarding, you will be able to find an activity and area to suit you.
2. World-renowned golf courses
Quite simply, East Lothian is a golfer's paradise. Muirfield is known for hosting The Open Championship, but there are a variety of other excellent golf courses available in North Berwick, Gullane, Longniddry, Dunbar and Musselburgh.
3. Stunning walks
With an array of stunning scenery and nature reserves, there are a number of breathtaking walking routes in East Lothian. You can stroll along the John Muir Way from Prestonpans to North Berwick or walk beside the picturesque River Tyne in Haddington.
Whether you're an avid walker or someone who just enjoys popping out for some fresh air, there will be many different routes to suit you.
4. Excellent cycle routes
East Lothian is also a great base for keen cyclists, with lots of main cycle routes. National Route 76 connects Haddington and Musselburgh with Edinburgh, and on past Dalmeny towards Stirling.
National Route 196 is a leafy, mostly traffic-free route along leafy railway paths and quiet roads. It connects Haddington to Penicuik, and links to National Route 1 south of Edinburgh.
5. Great fishing spots
Whether you prefer freshwater or sea fishing, you are spoilt for choice in East Lothian. Whiteadder Reservoir offers good trout and salmon, while Kin Loch at Markle Fisheries holds rudd, carp, tench and trout.
What our agents have to say
Erin Gilmour, Property Manager at Paris Steele, an East Lothian based solicitor estate agent, said: "East Lothian is an extremely popular place to live, not just because it is home to many picturesque towns and villages, but also because it offers a range of houses in various different prices brackets which cater to a diverse range of buyers.
"As well as those sought-after seaside views, East Lothian offers an exceptional quality of life with a range of outdoor activities, substantial local facilities and an easy commute into Edinburgh."
You may also be interested in...