Fascinating Fact: The most expensive house in the world
Topics
The funny thing is - the owners won't move in. Reputed to be the most expensive home in the world, a billion-dollar 27-storey tower called Antilia in Mumbai is lying abandoned at night-time because its owners return to a different home each evening because they fear the home will curse them with misfortunes.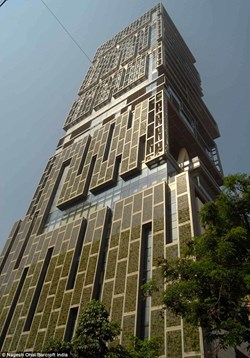 Dinners and film screenings have taken place at the property so it is not completely being unused, however after every party the owners return to their former home. The family reportedly won't stay overnight and haven't moved in since it was completed.
According to reports there are worries that the building fails to conform to ancient Indian architectural principles. It seems the property has fallen foul of "Vastu Shastra" - a philosophy that guides Hindu temple architecture - which emphasises the importance of facing the rising sun.
Antilia, however, despite the staggering amount of money spent on it, is said to not have enough windows on its eastern side to allow residents to receive sufficient morning light.
Seems money really can't buy you everything!