ESPC & Libby Clegg Prize Reveal
Topics
Read this blog post to find out who the winners of our Team Libby goodie basket prizes are...
It's a sunny Monday here at ESPC in Edinburgh - the number one place to find property in Edinburgh, the Lothians and East Central Scotland- and we're finally ready to announce the winners of our Team Libby Goodie Basket Competition 2012!
Remember, you can meet Libby Clegg in person on the 13th of October. Find out more about our meet & greet with this Paralympic medallist.
The competition


Libby Clegg went shopping with ESPC Paper Editor Lisa Brigham and chose her favourite things to go into a scrumptious goodie basket, compliments of ESPC.
Three baskets were then put together based on this. Of course, slight substitutes for our mystery man winner were made as we thought that he may not appreciate scented candles!.
We'll be giving on of the baskets to Libby to say thank-you for doing us proud at the 2012 Paralympic games.
The other two baskets are being given to two winners of our ESPC Facebook competition where participants had to tell us what they would like to have in the basket.
Goodie basket winners announcement
Take a look at our special video announcement for what Libby chose for the goodie baskets and who the winners are. We chose the winners at random and congratulate them on their prize!
If you are the winners, please hold tight and we'll get hold of you via our ESPC Facebook timeline as soon as possible. Watch the video below or watch it on our ESPC YouTube Channel.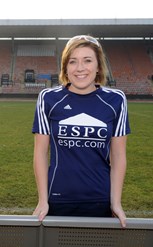 A little about Team Libby
"Libby Clegg, born on March 24th 1990, is a Paralympic silver medallist and World Champion gold medallist whom competes in the T12 100m and 200m sprint.
She suffers from a deteriorating eye condition known as Stargardt's Macular Dystrophy disease. Libby has only slight peripheral vision in her left eye, and is registered blind.
At just 16, she burst on the scene at the Assen 2006 IPC Athletics World Championships, winning a silver medal and just missing out on a second medal." Official website