ESPC is delighted to be sponsoring and supporting paralympic athlete Libby Clegg during until 2016. Here at Team Libby you can find out more about Libby, read her regular blog articles that are exclusive to ESPC.

We are on the road to Rio
ESPC has signed up to be a member of Team Libby for 4-more years. And you can join the team. As Libby trains in Edinburgh and Loughborough, it would be great if we could have hundreds of members of Team Libby.
The aim of Team Libby is simple. To cheer on and support Libby as she targets success at the Commonwealth Games, World Championships and the 2016 Paralympics in Rio.
Joining Team Libby is simple. Just visit www.facebook.com/espcteamlibby and like the page.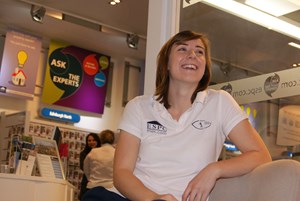 Libby's ESPC Blog
January Blog: Warm weather training and racing on my own! More.
November Blog: Moving my legs and moving house. More.
October Blog: School visits, training and house hunting made for a busy October. More.
September Blog Part 2: A look back at the Paralympics and plans for the future. To quote Libby, "It has been amazing to be involved in paralympic sport taking such a huge leap forward". More.
September Blog Part 1: reflecting on the result of the T12 100m, looking forward to the 200m and life in the Paralympic Village. More.
Good Luck Message: a few of Libby's supporters have got together to wish her good luck. More.
August Blog: as Libby is such a busy lady at the moment, the August blog is a telephone chat. Nothing can get in the way of training and preparing for the Paralympics. Plus, win a trip to see Libby race. More.
June Blog: Dutch delight as Libby becomes a double European champion and the big one gets even closer. Also watch an interview with Libby and her guide runner Mikhail.  More.
May Blog: the outdoor season begins. More.
April Blog: more warm weather training, turning 22 and Giant Libby. More.
March Blog: Feet and family. More
February Blog: an insight into the world of warm weather training and some of the perks of having ESPC as a sponsor. More.
Libby and ESPC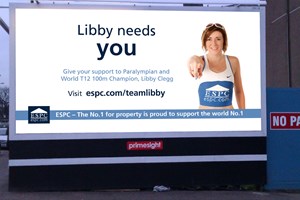 ESPC Chief Executive, Malcolm Cannon, said: "The success she's had so far is outstanding, so our aim is to help generate as much support for her as we can and raise her profile so that when she takes to the starting line she has everyone in Edinburgh, Lothians and Fife cheering her on, as well as ESPC."
We also ran a competition for schools in Edinburgh, Lothians and Fife to win a visit to their school from Libby in October 2012. For more details please visit our Libby Schools Competition page.
You can read the full press release about ESPC and Libby in our news section.
About Libby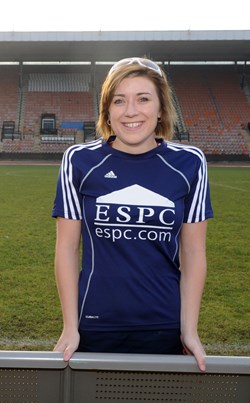 Silver medalist at Beijing and London Paralympics in T12 100m
Current T12 100m world champion and 200m bronze medalist
European Record holder for T12 100m (world record holder for 3 minutes during London 2012)
Libby trains at the High Performance Athlete Centre in Loughborough
A podium level athlete in the World Class Performance Programme
Since the age of nine, Libby has suffered from a deteriorating eye condition known as Stargardt's Macular Dystrophy disease.  Libby has only slight peripheral vision in her left eye, and is registered blind. She has two younger brothers that have the same condition.
Libby attended the Royal Blind School in Edinburgh. This was where she was first introduced to ESPC during a 2-week work placement with the company before the Beijing Paralympics
Libby in the Press
Some Photos
The launch of Team Libby
Libby at Trinity Primary School
Libby with another of our sponsorship partners, Edinburgh Rugby