Team ESPC goes Gung-Ho for SAMH
Topics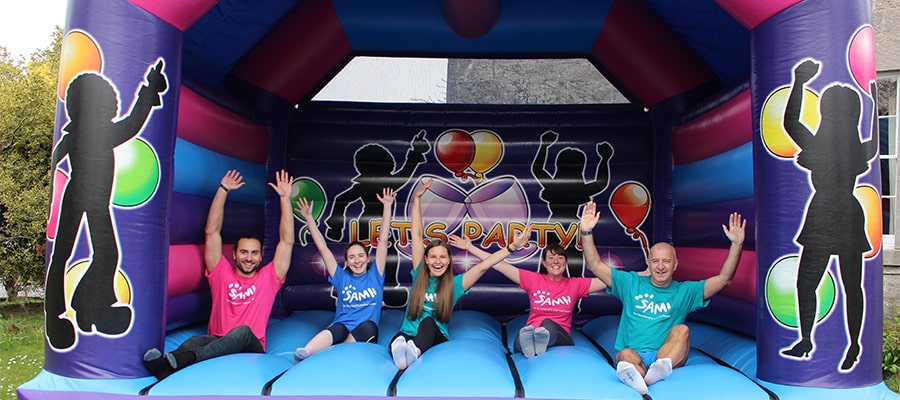 Team ESPC have been busy with fundraising activities for the past few months to raise crucial funds for our charity partner SAMH.
Bake sale
We hosted a bake sale at our offices on the 20th March (International Happiness Day) – the ESPC staff baked a range of delicious cakes and biscuits, from a chocolate beetroot cake to custard cream blondies.
Easter raffle
We also held an Easter raffle in the ESPC office – staff purchased tickets in the hope of winning one of the fantastic prizes, including Ferrero Rocher Easter Eggs, wine and prosecco! The money we raised from both events brings our SAMH fundraising total to £6,450, which is fantastic! 
Gung-Ho!
Five athletes from the ESPC team are participating in Gung-Ho! on 11th May with a target to raise £500 for dedicated charity. A 5km race round the Meadows with a twist, this event features giant inflatable obstacles which the team will need to tackle in order to reach the finish line.
In order to train up for the event, the staff members who are taking part spent some time getting used to inflatables by jumping around a bouncy castle. The castle was kindly provided by the East Lothian-based, family-run Beezkneez Castles, who offer hire for events across Edinburgh, the Lothians and Fife.
It was a fun but challenging training exercise for the team, who now feel able to tackle the giant inflatable obstacles of Gung-Ho!
Watch and share the training video 
Mental Health Awareness Week 13th – 19th May
Our Gung-Ho challenge falls just before Mental Health Awareness Week, which aims to educate and increase awareness about mental illness. This year, SAMH focuses on anxiety and ways to manage it. Find out more in Understanding Anxiety and Panic Attacks