Running the Marathon for the Sick Kids
Topics
Team ESPC took part in the Edinburgh Marathon Festival to help raise money for our charity of the year, Edinburgh Children's Hospital Charity, which was formally known as Sick Kids Friends Foundation.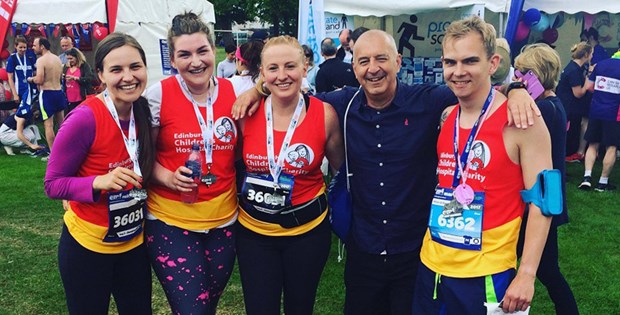 William Fletcher, who works in customer support completed the full marathon in an amazing 3 hours and 33 minutes. The Hairy Haggis Relay Team also did very well too. CEO Paul Hilton, ESPC's chief finance officer Annie Barr, Altis Legal's Phoebe Bolton and marketing assistant Laura Salnaite all took part in the relay team. We are pleased to announce we exceeded our fundraising target and raised £1,397 to go towards charity.
Marketing assistant Laura Salnaite, who rallied the troops to get involved, was pleased with her first experience of the Edinburgh Marathon Festival. "Everyone at the festival seemed to be so happy and cheerful, and it was a great ambience from start to finish," she says. "The minute I saw Annie at the changeover line I knew this is my time to show what I have been training for and do my best for the Edinburgh Children's Hospital Charity. I was lucky to have the most picturesque section to run, from Port Seton and overlooking the beautiful golf course. The changeover point was a glorious finish line for me as I knew I just completed an eight-mile run. I am utterly delighted to be a part of such a worthy cause".
Busines development assistant Phoebe Bolton said: "From my twice weekly training runs, our visit to the Sick Kids Hospital, exceeding our fundraising target, to crossing the finish line on Sunday; taking part in the Edinburgh Marathon Festival has been one of the most rewarding experiences of my life to date. I am not (and was certainly never made to be) a runner, so I feel really proud to have been able to take part, not only for charity, but for my own health too! Half marathon next year anyone?!"
The Edinburgh Marathon is just one of the ways we have been raising money for Edinburgh Children's Hospital Charity this year. We will be tallying up the amount of money to go to the charity and will announce the total at the beginning of July.
Money raised will help fund the new day care waiting area when the new Sick Kids hospital opens at Little France. It's one of the busiest wards in the hospital, with over 7,000 children visiting the ward. Children often have to arrive early for their appointment or procedure and are often not allowed to eat before then. Furniture designer William Warren has been appointed to design all the play areas and waiting rooms in the hospital. There will be comfier seats for all the family and distractions to keep children occupied and alleviate the stress and anxiety while waiting.
For more information on our charity activity, visit espc.com/news.