When it comes to property, whether for your home or when on holiday, the right neighbours are very important. At Crathie Opportunity Holidays, you can call the Royal Family neighbours.
Crathie Opportunity Holidays run a cottage development, which specialises in providing holidays for disabled people. The cottages have been given a new lease of life by famous interior designer Mikhail Pietranek. The designer, who is known for his work with the Royal Family, has proved that disabled facilities can still look spectacular, with a lick of paint and a splash of personality, whilst at the same time, maintaining their functionality.
Crathie Opportunity Holidays, which runs the development in the stunning countryside of Royal Deeside next to Balmoral Castle, commissioned Mikhail to undertake the work to help celebrate the charity's 10th Anniversary this year. Mikhail's brief was to make the development look colourful and modern, but strictly within disability guidelines.
The four unique, wheelchair accessible cottages are situated in the restored Manse Courtyard of historic Crathie Kirk and offer facilities catering for the needs of people with physical or learning disabilities. After many days of planning and several weeks of work, they were fully refurbished at the tail end of last year.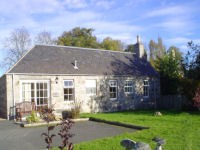 Mikhail paid particular attention to colour, to cater for different types of disabilities and each one has its own unique look. Girnock Cottage, the most colourful of all, boasts bright orange walls and beautiful floral patterned curtains. The vibrant, fresh look brings its own ray of sunshine to the cottage and makes the experience a memorable one for its guests.
In contrast, Gelder Cottage maintained its original heather-like colours, which he enhanced with new flooring, lighting and curtains. Mikhail kept the colours neutral and serene with a cottage-like look, to tie in with the surrounding countryside and the adjacent River Dee, which offer bird watching opportunities for guests. This cottage has a calming feel to it and is particularly suitable for people with epilepsy or autism.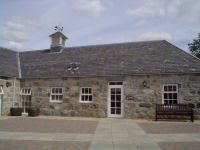 Gairn Cottage has a similar feel to Gelder, but with plum coloured walls to make for a warm welcome and toasty atmosphere. The fourth cottage, Clunie, has colour contrast decoration and was specifically designed with visually impaired people in mind.
The accommodation is open to all, whether disabled or not, but is predominantly targeted at disabled people. Most of the equipment can be removed from rooms, if guests so wish to allow for additional space.
Keen to help guests make the most of their holiday by enjoying the amazing scenery and many attractions that Royal Deeside has to offer, the charity provides accessibility guides for local tourist attractions and can put guests in touch with organisations that may be of interest. It also links in with the local tourist information centre and offers advice on activities in the area that guests can tap into, such as walking, arts & crafts, day trips, cycling, golf, castles and fishing.
Crathie Opportunity Holidays is open all year round. For more information contact Maggie MacAlpine on 013397 42100 or visit www.crathieholidays.org.uk .