Rent rise in Edinburgh brings market to all time high
Topics
The latest Citylets report revealed that the Scottish Private Rented Sector recorded another annual rise during the third quarter of 2018 with rents up 2.2%, now standing at £789 per month on average. Continued demand for properties of all sizes pushed rents higher with four bedroom properties, as per the previous two quarters of 2018, recording the steepest annual growth at 5.5%. The average Time To Let (TTL) for a rental property averaged one month (31 days), one day quicker than the same period of the previous year. A significant 61% of all properties are let within one month.
Commentating on the latest report, Gillian Semmler, Communications Manager at Citylets said: "Strong demand for rented accommodation in Scotland continued in the third quarter of 2018, most notably in the central belt where both Edinburgh and Glasgow experienced rental growth in excess of recent quarters. The continued shift in demographic towards families renting appears evident in the uplift in rents achieved for larger properties."
Once again, rents in Edinburgh rose during the third quarter bringing the market to another all time high, with rents now standing at £1107 per month on average, up 5.6% compared to last year. All property sizes recorded strong annual growth with four bedroom properties rising the quickest over the year at 10.8% – this is likely partially due to the continued strong demand for family rental accommodation. TTLs also remain very low in Edinburgh with 76% of all properties to rent in Edinburgh let within a month. Tenants may be concerned by the increase in the rate of growth for Edinburgh, which is back to the 5–6% range after lying in the 3–4% range for around a year prior to the second quarter of 2018.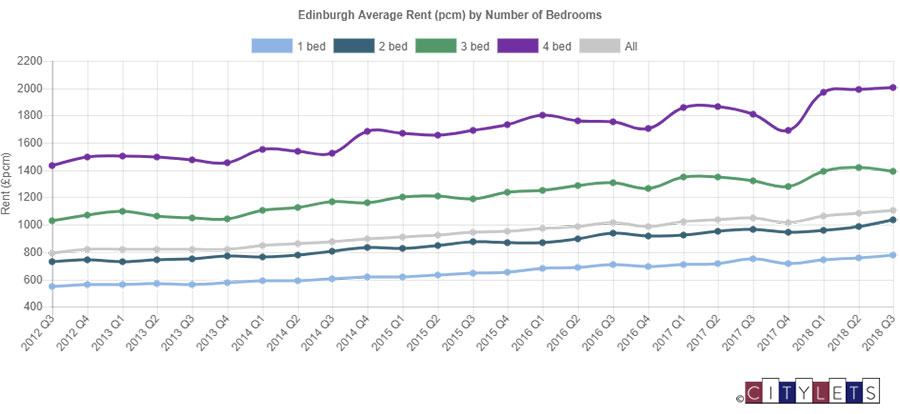 The full report can be found at citylets.co.uk
Established in 1999, Citylets is Scotland's premier portal for property to rent with over 400 agent offices online and advertising over 50,000 properties per year. Its Quarterly Reports, now in their 12th year of publication, are widely regarded as the most reliable and authoritative barometer of the Scottish Private Rented Sector market.