Property Hopping in East Central Scotland
Topics
Read our latest blog and listen to our podcast on a very interesting customer research survey...
ESPC recently conducted consumer research on Property Hopping in East Central Scotland and David Marshall, our savvy business analyst at ESPC, took some time to answer a Q& A on the research and revealed some very interesting findings.


A little about David
David Marshall joined ESPC in 2004 after graduating from the University of Edinburgh. David is responsible for scrutinising the wealth of data ESPC holds on the property market in Edinburgh, the Lothians, Fife and the Borders and has provided market analysis for local councils and the Scottish Government as well as ESPC's network of solicitor member firms.
Amongst other things Dave likes watching American football and analysing their scores and results, a sporting attitude which he brings to the office every day!
What we asked
The podcast is based on three questions that we asked David. They were:
Tell us about what the recent market research conducted by ESPC?
Can you tell us the top findings and why they are important to know?
What makes ESPC stand out from other competitors?
What makes working at ESPC rewarding for you?
Listen to our podcast below for more.
Interesting facts
Here is a summary of points that were gathered as a result of the findings from the research.
ESPC continues to hold market dominance in East Central Scotland in terms of brand awareness
Brand awareness has risen since last year to 95% vs 85% last year. Almost half recall some recent ESPC advertising
ESPC is still the principal portal of choice for first time buyers and for homeowners
- 47% of first time buyers would consult ESPC (.com, showroom or paper) first if buying
- 72% of first time buyers would consult ESPC in their search (81% of homeowners)
Regionally, awareness and willingness to use has risen most in West Lothian - so too have competitors
East Lothian and West Fife are seeing some ground lost on last year's research
Tell us what you thought of the podcast by tweeting us @espc or sharing your thoughts on our ESPC Facebook timeline.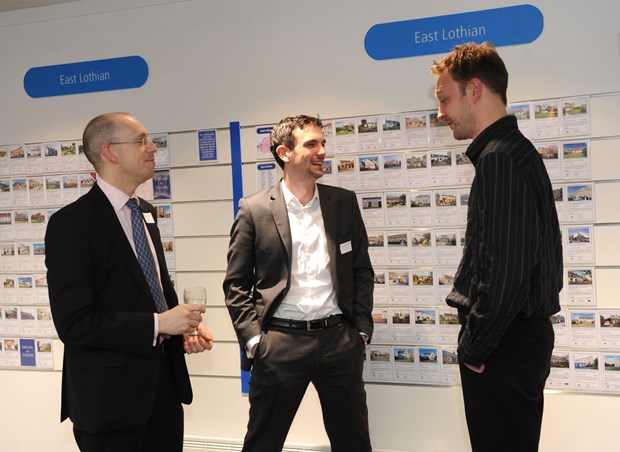 Image: David Marshall (middle) is a business analyst for ESPC in Edinburgh.