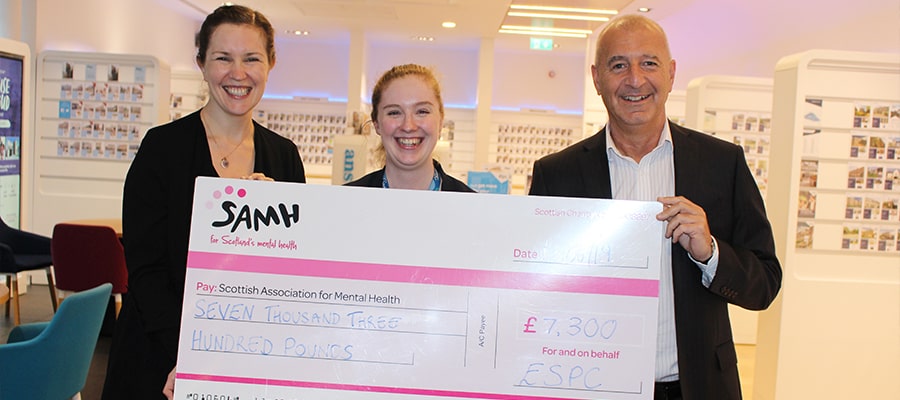 For the last year, ESPC has been partnered with SAMH – the Scottish Association for Mental Health. Our charity partnership has now come to an end, but Team ESPC has had a fantastic year supporting this fantastic charity. We thought we'd have a look back over some of the fundraising activities we've got up to this past year…
We (quite literally) kickstarted our fundraising for SAMH last July, by taking part in a five-aside football tournament – ESPC staff were sponsored to take part by friends, family and colleagues. That was quickly followed in September with our annual charity quiz – the competition was fierce between the ESPC agents and staff participating, but Murray Beith Murray managed to clinch the trophy in the end.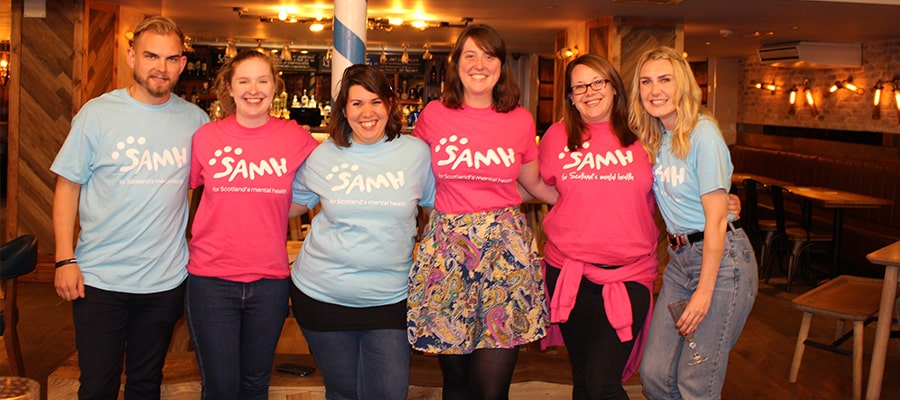 During September and October, we held lunch and learn sessions with a representative from SAMH and groups of ESPC staff. This helped to raise awareness of mental health in the workplace.
In October, it was time to really challenge ourselves with ten members of staff tackling SAMH's STOMP challenge – the team ran over 4000 steps in Murrayfield Stadium. It was a fantastic achievement. We also hosted a bake sale on Mental Health Day in October.
At the end of November, it was time for our Winter Charity Ball. ESPC staff and our agents got dressed up and headed to Prestonfield House Hotel for a night of drinks, dinner and dancing. We held an auction and raffle on the night, with excellent prizes donated by lots of generous local businesses. And in December, a group of staff volunteered at the SAMH Redhall Walled Garden and we had a Christmas Jumper Day in the office.
In 2019, we organised another bake sale during Mental Health Awareness Week in March. In April, we held an Easter Raffle in our offices. And in May five ESPC staff members took on giant inflatable obstacles in the Gung-Ho! 5km challenge in the Meadows.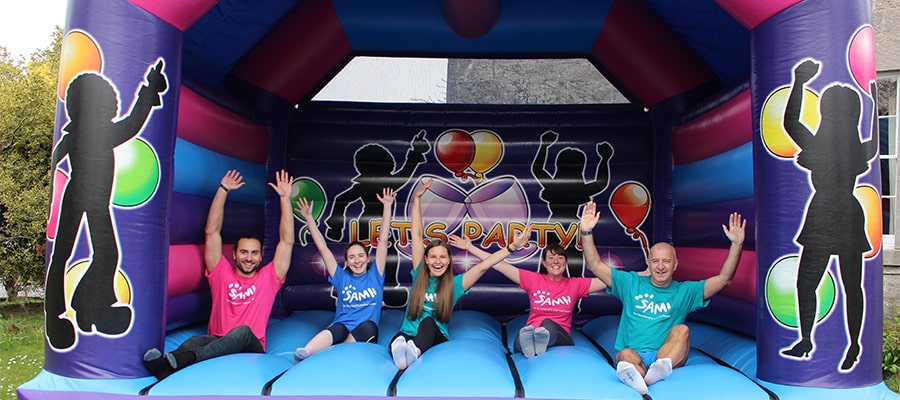 Plus, throughout the year, ESPC employees have been collecting spare change in Smarties tubes, which we have just collected.
All our fundraising activities throughout the year, helped us to raise a total of £7,300 for SAMH, all of which will go to support local projects, including Redhall Walled Garden, The Hive (an activity centre and coffee bar), Community links (a post-discharge service from the hospital) and many others.
Paul Hilton, CEO of ESPC, said: "It's been a pleasure to work with SAMH this year and we're delighted to contribute a donation to help support the incredible work the charity does. Working with SAMH has also helped to raise mental health awareness amongst ESPC staff. Thank you to everyone at the charity and to all those that supported our fundraising efforts."
Fiona Lewis, Corporate Partnerships Manager at SAMH, said: "It has been absolutely fantastic working with such a driven and motivated team who all want to make a difference for mental health in Scotland. It is hugely appreciated by everyone at SAMH and we are so grateful to ESPC for all of the effort and hard work they have put in to engaging colleagues, raising awareness, organising fantastic events and generally being an absolutely brilliant partner. We have been so proud to work with ESPC and want to say thank you to the company for playing a part in our charity's aims and ambitions."
Keep an eye on our Facebook page to find out which charity we'll be partnering with next!