Our chosen charity for the year - SAMH
Topics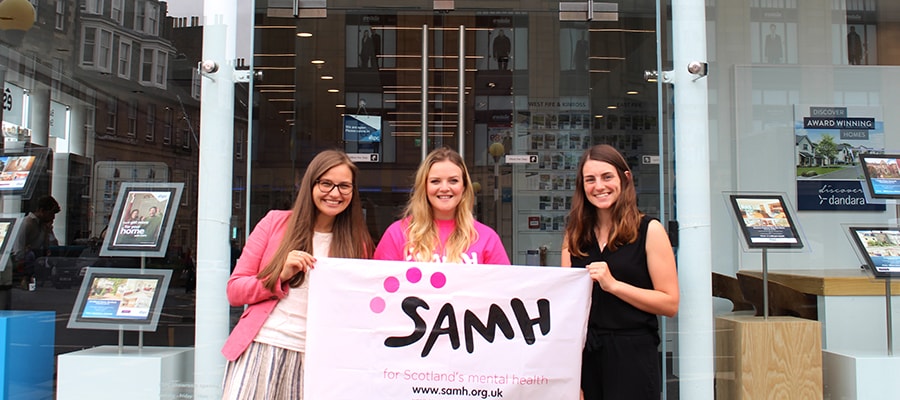 We're absolutely delighted to announce that ESPC is partnering with SAMH (Scottish Association for Mental Health) as part of our charity drive this year and we will be organising and taking part in various events to help support their fundraising.
Every year in July, ESPC decides on a new charity to support for the year. Over the last 12 months, the ESPC team has participated in several events and challenges to raise £7,158 for Maggie's – the most ESPC has ever raised for a charity. We're hoping to break that record again this year for SAMH, by taking part in the SAMH STOMP (which involves walking/running 4,200 steps in Murrayfield Stadium!), hosting the ESPC quiz and winter ball and donning our swimsuits and bravest faces for Thrilled to be Chilled, an open water swim in February.
SAMH is Scotland's largest mental health charity and believe there is no health without mental health, and has represented the voice of people most affected by mental health problems in Scotland for more than 90 years. The charity currently operates over 60 services in communities across Scotland supporting more than 3,500 people through recovery focused community services which provide mental health social care support, addictions and employment services, among others. These services, together with national programme work in See Me, respectme, suicide prevention, sport and physical activity, inform SAMH's policy and campaign work to influence positive social change. SAMH is dedicated to mental health and wellbeing for all, with a vision of a society where people are able to live their lives fully, regardless of present or past circumstances.
The money raised by ESPC over the course of the next 12 months will help support a great range of SAMH projects in Edinburgh, the Lothians and Fife. One of these is the Redhall Walled Garden which offers training in horticulture, conservation, maintenance, ICT/admin and life skills for people with mental health problems. Another is The Hive, an activity centre and coffee bar situated in the grounds of the Royal Edinburgh Hospital, which provides activities for in-patients of the hospital. Other projects that the money raised will go to include a housing support service for people with mental health problems in West Lothian, and ALBA (Active Living Becomes Achievable): a project working in partnership with local leisure trusts to help individuals who want to become more active but lack the motivation, self-belief or confidence.
ESPC's CEO Paul Hilton said: "Every year 1 in 4 of us in Scotland will experience a mental health problem. We hope by adopting SAMH as our charity of the year, we can support them in their efforts to reduce the stigma associated with mental health. In our own small way, we want to raise funds to assist SAMH support those in need. We look forward to working closely with them."
SAMH Campaigns and Communications Manager Marisa Mahood said:
"We are absolutely delighted to have been chosen as ESPC's charity partner. Thanks to the staff team for making mental health their cause this year.
"At SAMH we are looking forward to working with the team on their plans to raise awareness and funds for Scotland's mental health. We look forward to welcoming the team at the SAMH Stomp at BT Murrayfield this October.
"We will put ESPC's contribution to good work, and be there for people when they need us."
Keep an eye on espc.com/news, read The ESPC paper and check out our Facebook, Twitter and Instagram pages to stay up-to-date with our fundraising activities.