Our chosen charity for the year
Topics
ESPC is teaming up with Maggie's charity to help support their fundraising, as part of our charity drive over the next year.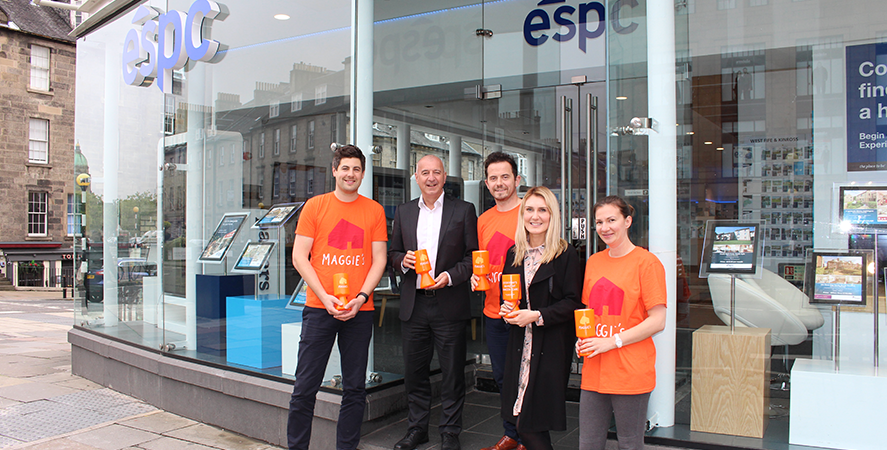 From left to right, Maggie's Adam Kent, ESPC's CEO Paul Hilton, Maggie's Mark Cooper, ESPC's Ashley McInulty and Amy Robertson from Maggie's.
Every year in July ESPC chooses a new charity to support for the year, and we've had a really successful 12 months raising £6,718 for the Edinburgh Children's Hospital Charity, formerly known as the Sick Kids Friends Foundation. Now we are hoping to beat this result and raise even more for Maggie's through a number of different fundraising activities over the next year. These will include taking part in Culture Crawl 2017, hosting the ESPC quiz and winter ball, a cycling event, Pedalling for Maggie's, spending a day doing work in the garden at Maggie's, and running the Edinburgh Marathon.
Maggie's provides a unique programme of free practical and emotional support for people living with cancer and their family and friends. Built in the grounds of specialists NHS cancer hospitals, Maggie's Centres are designed to create a calm, uplifting and welcoming environment, with qualified professionals on hand to offer a programme of support that has been shown to improve physical and emotional wellbeing. The first Maggie's Centre opened in Edinburgh in 1996 and while it is a local charity, there are now 21 centres across the UK and abroad, with more planned for the future.
ESPC's CEO Paul Hilton said: "At ESPC we believe in supporting local charities, and Maggie's has particular resonance to our staff. After a well-loved colleague was diagnosed with cancer, we wanted to do what we could to help, and she recommended we select Maggie's as our charity of the year - a charity she found incredibly beneficial. We are looking forward to working with Maggie's as they do such good work, and I am sure that all of us at ESPC will do our best to support the charity over the next 12 months."
Mark Cooper from Maggie's says: "Just like ESPC, Maggie's is there to serve the community of Edinburgh and we are delighted to partner with such a well-known and respected business. Voluntary donations ensure that we can continue to support people affected by cancer and we would like to thank everyone at ESPC for choosing us their charity of the year."