Fresh Start adapts services to continue supporting the community
Topics
Fresh Start, ESPC's charity partner of the year, helps people who have been homeless get established in their new home. Working in partnership with volunteers and organisations from a broad section of the community, they deliver a range of valuable services that provide the practical and social support that help people resettle successfully.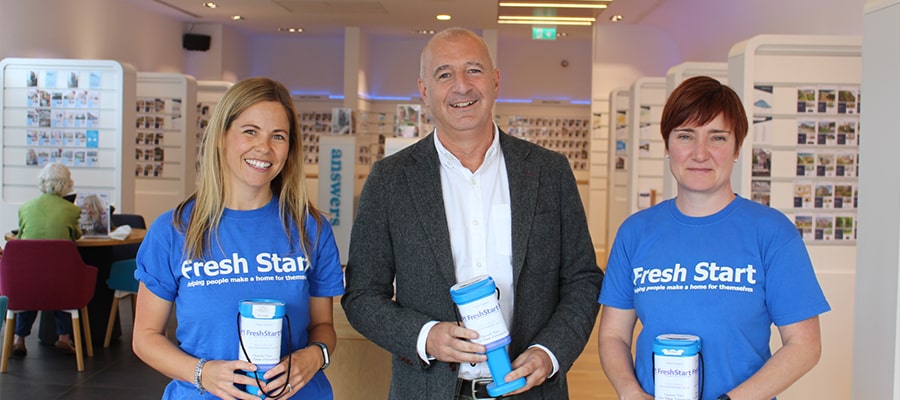 The social distancing measures implemented last month as a result of Coronavirus COVID-19 mean that the charity's services are still very much needed but they have had to be adapted.
So, over the past few weeks, Fresh Start has been working around the clock to put contingency plans and emergency services in place so they can still support vulnerable people in the community throughout this crisis while keeping their staff and volunteers safe too.
They have been delivering emergency packs of food, cleaning items and toiletries to some of the most vulnerable people in the Edinburgh community, and are currently running this service with just the immediate staff team in order to maintain very strict social distancing measures.
Jen McQuistan from Fresh Start said: "I'm pleased to say that in the last couple of weeks we have been able to send out over 700 emergency packs to some of the most vulnerable individuals and families in need. We have also been working very closely with partner organisations to also give out hot meals and packed lunches, particularly in north Edinburgh, and have set up a direct phone helpline so we can support people with whatever services they need."
However, a big challenge for the organisation at the moment is that they have to refuse donations of goods at the moment to maximise safety in the warehouse. This means that they are having to purchase all of the stock required to make up these emergency packs and need additional funds in order to do so.
If you feel financially able to do so, you can support Fresh Start in helping the local community by donating via their website.
And while the charity can't accept donations of household goods at present, if you are cleaning out your house, don't throw away your unwanted household items! When the current social distancing measures have been lifted and Fresh Start are able to accept these items again, consider donating them to this very deserving charity.
Over the past year, Team ESPC has seen first-hand just how much Fresh Start supports the community by volunteering as part of their 'Hit Squads' (helping to decorate and get people settled into new homes) and spending time in their warehouse putting together food packs.
We held donation days to encourage staff and agents to donate household and food items to Fresh Start. And through our fundraising events, including bake sales and a quiz night, we raised £3,714 for the charity.
We had many more fundraising and volunteering activities planned for spring but these have been put on hold due to the current social distancing measures.
Paul Hilton, CEO of ESPC, said: "Fresh Start is a hugely deserving charity that provides very valuable services. I am impressed by how much Fresh Start helps the local community and how they have adapted services to continue supporting people in these difficult times."
Find out more about Fresh Start and how to donate.