Make your home a star on screen
Topics
Renting out your property as a film location is a painless way to earn some money and sometimes get a glimpse behind the cameras.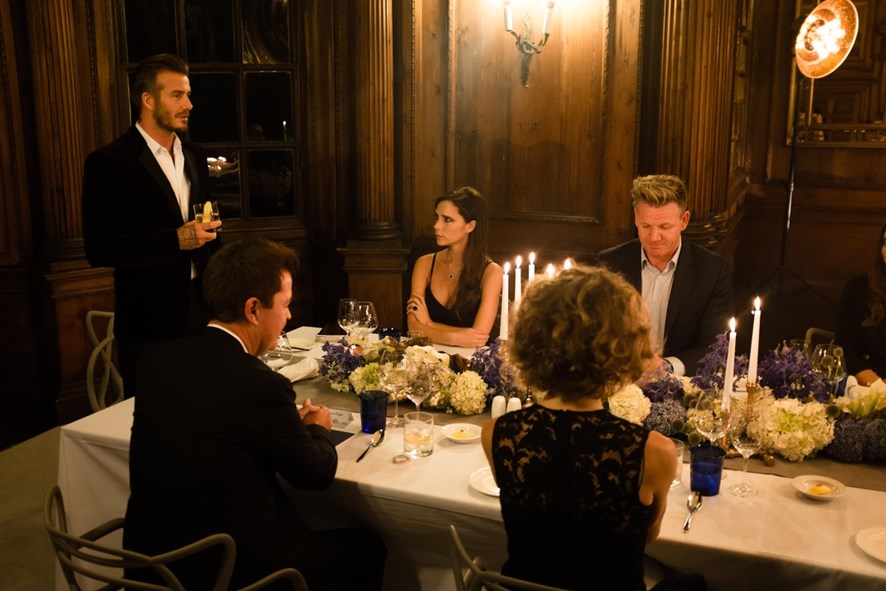 When David and Victoria Beckham arrived at Gilmerton House in East Lothian last year to film an advert for Haig Whisky, it offered the chance for the staff at the house to experience behind the scenes of an elaborate, celebrity-driven shoot.
The London company who were producing the Haig Whisky advert had found Gilmerton House online and after carrying out a sight inspection they decided it would be the perfect location, to combine with a bar scene at 99 Hanover Street.
"It was a fantastic experience," says Fay Angus-Knowles, the manager of Gilmerton House. "There were 80 crew members on the actual filming day, so it was very busy. But the production was a well-oiled machine, so organised, and when they did the wrap everyone just departed after putting it all back to the way it was. It was painless for us to do and turned out to be a great experience. "
The Georgian mansion in North Berwick is a popular venue for weddings and for luxury stays, but is also proving popular for film production companies who are choosing to come to Scotland for movies, TV programmes and adverts.
In any one year, there are up to 350 productions looking for all sorts of properties, according to Film Edinburgh, the film commission for Edinburgh, East Lothian and the Borders. Recent movie productions filmed in Edinburgh and surroundings included The Railway Man with Colin Farrell and Nicole Kidman, Cloud Atlas with Tom Hanks and Sunshine on Leith. The Outlander TV series has also fully explored the dramatic scenery and historic castles of Scotland.
"We are always looking for new properties – any kind of property, and all shapes and sizes, from mansions to one bedroom flats", says Rosie Ellison, of Film Edinburgh. "It's very time consuming for productions to search for locations and property for their shoots, so it's easier for them to come to us for help."
It's easy to submit your property to Film Edinburgh and they will then keep photos and information on a database or recommend it to the film production companies who are doing location scouting.
It also helps with the promotion of the city, says Rosie. "We are competing with other cities, and other countries, to bring in filming. For example with a Bond production, each location scout has a brief to follow and they contact film offices around the world who put forward possible locations. If there is one that appeals then they may choose to film other elements of the production here."
Location scouts for Cloud Atlas got in touch with Film Edinburgh to see if there were any tower structures that would suit a particular scene in the production, despite it being set in Bruge.
"We came back to them with details of the Scott Monument and they thought it was brilliant, and from there they thought about what else was in the script that they could use in Scotland. They were looking for a manor house for two locations, and they used one of our private homes in the central belt, along with Edinburgh City Chambers and a section of Calton Road."
"Going on the books doesn't mean that you'll get a phone call every week," says Rosie.  "You won't get charged but will be put forward when something suitable comes up."
The money depends on the shoot and what is required. For a feature film, they may want to take over the property for several weeks, and so you'll be relocated to another property at the cost of the production, and an agreed fee will be paid. For a commercial photo shoot which takes one day, you could expect to get about £500.
But, as Rosie stresses, the owner of the property has minimal work to do. "You are not expected to get the cleaners in as they will do that for you," she says. "A drama production will want to put in a few pieces of their own, but will put it back to normal at the end. For one location, the owners got their floorboards re-sanded, which they had planned to do anyway, and it looked lovely. Another home had planned to do a massive clean up, which the production company did for them, so worked out really well and can be good timing."
Gilmerton House was booked by the production company for five days in total. While it was a one day shoot, they used the other days for setting up and de-rigging, and to allow them to adapt the mansion to suit their needs. Fay says: "One of the reasons they chose us was for our flexibility. They wanted to remove quite a bit of the furniture to replace it with theirs from London, and we agreed and moved it temporarily."
Gilmerton House was also the setting for The Railway Man, which used a number of East Lothian locations including a private house in North Berwick, where Colin Farrell and Nicole Kidman live after they get married. "Filming took place for a week, but it took a month to prepare the house. They knocked down a wall in the back, which the owner had wanted to do anyway, switched the kitchen and living room around, and it was staged to look as if it was set in the 1970s. It was great for the owners as they got a glimpse of Hollywood and a story to dine out on for a long time, and while they were put up in another house nearby, their cats got to stay where they were."
Following the completion of the shoot at Gilmerton House, David Beckham and wife Victoria held a cocktail party, with guest staying over. Fay met David and Victoria: "He was a really nice man, and Victoria was lovely, just great."
To register your property, visit filmedinburgh.org, fill out the form and they can provide more information on the next step.