The outdoor season finally gets underway
Hello again,
Here is a quick update on what I have been up to.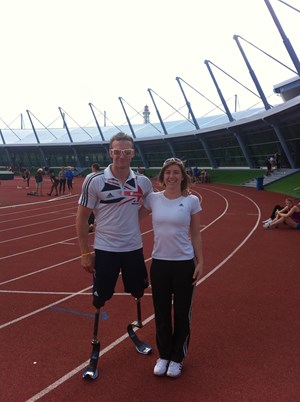 I was in Portugal for a week of warm weather training to get some good sessions done before competitions start. The weather wasn't fantastic and pretty windy which stretched the definition of warm weather. However, I still managed to do some fast running out there. A couple of other people joined in our training group which was really nice and we were all very competitive with one another which made the sessions harder. The picture on the right is me with Richard Whitehead. Richard is the T42 200m WR holder and World Champion. And to mix things up a bit he has run a 2:42 marathon.
I then went to Aberdeen for a BP Road Show which was really exciting! Jason Gardener was the other athlete invited (which was great as I have never met him before). I really enjoyed hearing about his own experiences from the World Championships and Olympic Games.
I have also been home to see my family in the Borders, it was great to see them and catch up and find out what they had been up to. I had my final school talk at Denholm Primary school as part of the Champions in Schools programme. I was really impressed with how much the children had remembered from my previous visits. They are a really energetic class and all participated in the activities afterwards. I got the children to partner up and had a go at guiding and being an athlete. The children put blindfolds on and were attached by a band. Some of them were pretty good at guiding and they all seemed to enjoy themselves.
After my visit to Denholm Primary School I made my way to Edinburgh to ESPC on George Street. I met all the staff in the show room and did a talk on my life experiences as a Paralympic athlete. Afterwards the staff asked my questions about some of my experiences which was good fun - especially the questions about anti-doping and the processes you have to go through to produce a sample for testing! I had a great time and everyone was really friendly and was nice to see some familiar faces. I also got to see my brother James briefly afterwards, just popped into the gym to see how he was doing as I've not seen him in a few months.
I now have raced at the Olympic stadium as well. I attended the test event which was put on to trial some of the events and processes athletes have to go through before racing. It was really exciting to get the opportunity to compete in the stadium. I got the chance to find out where things were so at the Paralympics I don't panic if I can't find the toilet! I ran in the 100m and 200m. I was racing against a T11 athlete from Brazil which was great competition for me as she runs slightly quicker. I came close to breaking my personal best times in both races.
At the BT Paralympic World Cup I ran against the same Brazilian athlete and ended up with two silvers from my two events. At this stage in the season I am delighted to be running so close to my personal bests and all is looking good for the rest of the season.
A question I am often asked is how I work with my guide runner in the 200m in terms of managing the bend and knowing when I am on the straight. I like to run with my guide on the inside. This means I can lean into him very slightly and use this to help me around the first 100m. Running with a guide over 100m or 200m it is all about being in sync. We put in lots of training to make sure our arm and leg movements are co-ordinated just right. It is one of these situations you can never practise enough.
I will be back in June. In the meantime, if you have any questions please post them on www.facebook.com/espcteamlibby and I will try to answer as many as I can.