The latest blog post from ESPC-sponsored Libby Clegg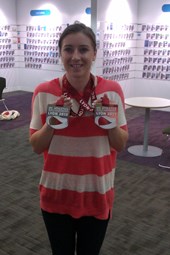 Another season has finished and it certainly ended on a high at the Anniversary Games. It was great to be back running in the Olympic Stadium and be cheered on by such a massive crowd. I was very excited about racing in the stadium again. The smells were the same and there was a great buzz around the place, especially as so many of the GB Team were winning their races. I was delighted to win my race and run a season best time.
In fact, the Anniversary Games were a perfect tonic following the World Championships. I was happy with my performances and times I was posting. However, the results were not what I was looking for.  I really had been hoping to defend my 100m title but it was not to be. Lyon was extremely hot and I definitely felt as though I was in PB form. I have always been able to channel disappointment in a positive way and will use this to push me forward for next season and beyond.
My 200m result was an improvement from the previous world championships in New Zealand as I managed to turn a bronze into a silver this time round.  One of my rivals, Zhou from China, was disqualified in the 200m as the judges decided that her guide had catapulted her across the finishing line. The ban on catapulting by guides was something that was brought in after the London Paralympics.
The whole idea behind your guide is that they are your eyes on the track and in no way should they drag or push forward the runner. The relationship between the guide and runner is very important. This is one reason why I am hopeful that during next season Mikail and I will be able to spend more time training together to further improve the times I am able to achieve. There are a few other ideas we have to ensure the results match the performance in the future.
Next season will (hopefully) see me take part in the European Championships and the Commonwealth Games where the T12 100m is part of the main athletics programme. The final is scheduled to be during the same session as the mens 100m final which could very well feature Usain Bolt, who has said the Commonwealth Games title is the one major honour he has not won yet. So that should be another amazing night to be racing at Hampden Stadium. I was involved in a photoshoot for the Scotland team which meant me being photographed next to a cheetah (fortunately, it was only a stuffed one).
My current training plan is quite light as I try to keep things ticking over. I have a holiday lined up for later this month, weddings to attend and then get back into serious training during September.
On a domestic front I am gradually getting my home in Edinburgh in to shape. Just on a look out for a new sofa and new carpets at the moment.
I will also find time to cheer on Richard Whitehead (photographed below on a training run and with me at a training camp in 2012) who is in my training group. Richard is a congenital double amputee and competes in the 200m. He is renowned for his slow start but coming through to win in the 2nd hundred. Previously Richard was a marathon runner but switched to 200m when his marathon was dropped from the Paralympic programme. Starting in August, Richard will run 40 marathons in 40 days as he goes from John O'Groats to Lands End. You can read more at Richard Whitehead Runs Britain. Good luck Richard.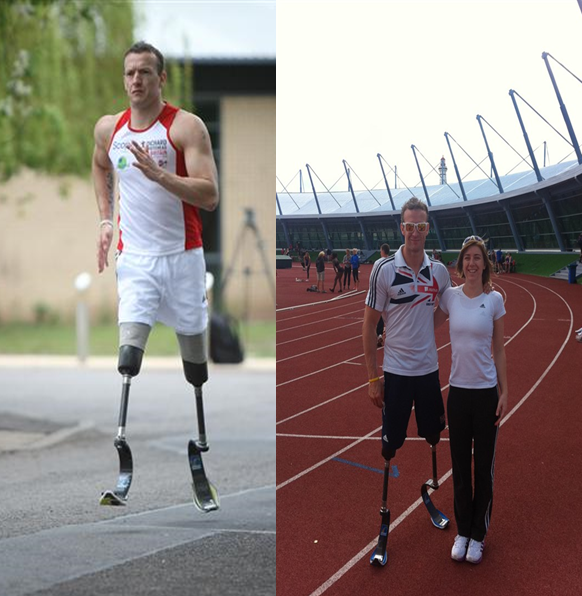 As ever if you have any questions or want to keep up on what I am doing, please Like or get in touch via the Team Libby page on Facebook.