Competition season approaching, sharing my birthday with ESPC and Giant Libby
Hi Everyone,
I am now coming into competition season in a couple of months so training has become much more intense. I also have done a couple of schools visits. They were really great! The first one was in Bath; it was lovely meeting all the children and getting a tour of their school. They had great questions and really enjoyed looking at my medals from the World Championships and the Beijing Paralympic Games. Louise Heren who filmed my documentary "Running Blind" had invited me to the school so it was really nice to have a catch up as I've not seen her in a while. The second school visit I did this month was at Denhom Primary School, it was my second time visiting the school with the charity Champions in Schools. It was fantastic to meet all the children again and see their progress from my previous visit.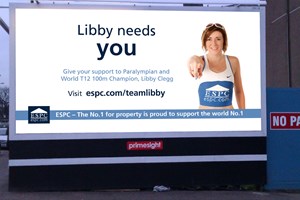 I have had a UK Athletics squad weekend with all the development and podium athletes. We hadn't all been in one place for a long time so it was nice to see some new faces and to have a catch up with others! The squad weekend was really helpful; we got some updates on London 2012 Paralympics and were given helpful advice for our preparations.
Since my last blog I have celebrated my 22nd birthday too! Turns out I have the same birthday as ESPC but they do have a few years on me. My sister travelled down to Loughborough to spend it with me. I really enjoyed having her stay with me as I've not seen her properly since January! We had great fun getting our nails done during the day and then went out for a lovely meal and a few drinks afterwards. I can occasionally let my hair down! A couple of my friends joined us which was great, everyone had a good time so it was overall a fab weekend. My Dad came to pick my sister up the next day and took us out for lunch, we had a nice afternoon chilling out in the garden and as I'd not seen me Dad in a while either it was good to spend some time with him also.
I've been to Portugal for a warm weather training camp and that was great training. We had some guys against the girls competitions within our training group. I am not giving away any great secrets by revealing that the girls came out on top. I will give you more detail on what happened in Portugal and my calendar of races next month.
I have not been up to Edinburgh recently but I am hoping to squeeze in a visit to see one of the billboards ESPC has put up with me on it. Will be great to see Giant Libby.
Thanks
Libby
Keep up to date with Libby via: www.facebook.com/espcteamlibby