Scottish Rental Market Hots Up
Topics
The latest report on the lettings market from Citylets
There is clear evidence that the private rental market in Scotland is hotting up. Citylets' latest analysis of the private rental market shows that in the second quarter of 2013 (April, May, June) average monthly rents in Scotland rose by 3.1% over the year- an increase that was higher than inflation - Consumer Price Index (CPI) measure of inflation for May was 2.7%.
Meanwhile average house prices have fallen slightly with the most recent Scottish house price figures from Registers of Scotland (Q2 2013) reporting a decrease of 0.2% from Q2 2012 - which suggests an improvement in yields for those looking to invest in the Private Rented Sector.
The largest Scottish cities all saw rises in rents over the year. Edinburgh was up 3.4% at £818 while Aberdeen jumped 7.3% to £967, which sets a new high for the granite city. Glasgow experienced below inflation rent increases of 1.5% to £618 while Dundee the most affordable city in Scotland to rent, saw a jump of 5.2% to £565.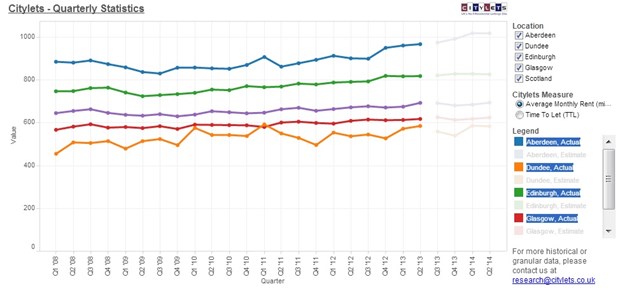 Dan Cookson, senior analyst with Citylets, said:
"The Scottish rental market has certainly warmed up this Summer with increases in volumes and prices of rental property at both the national level and city level.  This increased demand for rental property has also been seen in Citylets site traffic with 20% more visitors in the first half of 2013 compared to 2012."
"Aberdeen's average annual rent increase of 7.3% to £967 was the highest of any city in Q2 2013 - with average 'time to let' (TTL) figures of just 14 days compared to 21 days in the same period in 2012 there is clearly unmet demand with every expectation that rents will keep heading upwards during the rest of 2013. One bed properties in Aberdeen saw a rise of 9.5% to £631 while average prices for two bed property rose 6.3% on last year to £879 and three beds rising to £1,287, an increase of 5.1%."
"Meanwhile in the capital average mix adjusted rents rose by 3.4% to £818 though it was smaller one bed flats which experienced the biggest increase of 5.2% to £566.  These smaller properties were also the quickest to let with TTL figures of 27 days an improvement of 8 days over last year.
"Two and three bed properties in Edinburgh saw increase in rents with two bed properties now standing at £742, a 3.3% rise on last year. Three bed properties increased by 3.0% to bring rents to an average of £1,062 in the capital."
"Time to let figures were also shorter in Edinburgh with the average property taking 31 days to let, an improvement of five days from last year.
Dan continued: "The Glasgow rental market has been very steady and experienced little change over the year, with an increase in mix adjusted rent of just 1.5% to £618."
"Two bed properties increased by 2.4% to £629, three bed properties in Glasgow increased by 2.7%. Time to let figures shortened slightly with the average property now taking 37 days to let compared to 39 days in the same period last year.
In Q2 2013, Dundee had a mix adjusted rent figure of £565 which is 5.2% up on the year but down slightly on the Q1 figure of £572. Whilst the annual increase is higher than the national rate, Dundee retains its title as the cheapest city to rent in Scotland although it is slowly catching Glasgow.
For more information on this report please contact Dan Cookson on 0131 467 4864/07977 150 207 or by email via dan@citylets.co.uk.
If you are thinking of becoming a landlord or already have properties that you let out, we would be delighted to discuss how ESPC Lettings can help you find and/or manage your property successfully to maximise your income.