Home Reports: what the public think
Topics
ESPC has conducted a survey of consumers who have either ordered a Home Report or have bought a property which had a Home Report. The aim was to gather the views of those who had used the Home Report from a practical perspective, rather than theoretical.
The Home Report consumer survey was conducted at the end of 2011. The survey findings are based on 2 groups:


141 respondents had bought a property which came with a Home Report. This group shall be called Buyers.
154 respondents has ordered a Home Report to start marketing their home for sale. This group is called Sellers.

Views of Buyers
The most useful elements within the Home Report were the Property Condition Report (45%) and the Valuation (39%).

When asked how helpful they found the Home Reports, buyers responded: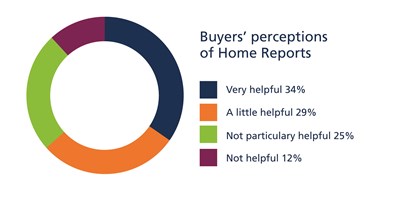 67% of respondents relied upon the survey in the Home Report when buying their property. 20% had a second survey undertaken as a result of a request by their mortgage lender. 13% chose themselves to have a further survey undertaken.

The Home Report is a document that a seller must have available before they start to market their property. When presented with the hypothetical question that if a Home Report was optional, would they still visit a property that was for sale which did not have a Home Report. Of the buyer respondents:


9% would discount the property which does not have a Home Report
41% would still visit the property and expect the seller to pay for the Home Report at a later date.
50% would still visit the property and arrange their own survey.

64% of buyers find the Home Report helpful. It is giving them information up front in a standard and accessible format. However, in a 3rd of cases we are seeing a return to multiple surveys (something that had been removed from the market by offers subject to survey).

While it is a hypothetical question about the Home Report being optional, the fact that over 90% of buyers would still visit a property which did not have a Home Report, does raise questions about whether the consumer benefit of more information upfront is a valid one that should be legislated for. This does highlight that having the Home Report from day 1 is not that vital to buyers.

Views of Sellers
The split of seller respondents based on how long their property was/is for sale for was:


39% Up to 3 months
26% 3-6 months
35% Over 6 months

How helpful do you think the Home Report has been to you as a seller?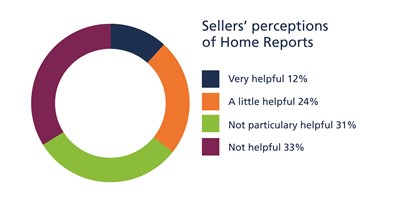 Respondents were also asked how helpful they think the Home Report has been to the wider property market (not just the sale of their own property). The responses were: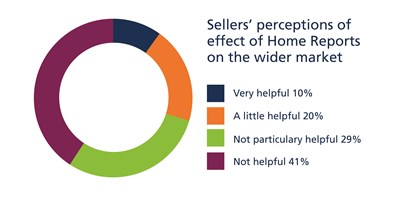 Sellers were also asked if they had experience of potential buyers asking to see the property. The responses were:



If the Home Report were optional, would you have arranged one before putting your house on the market as the legislation requires?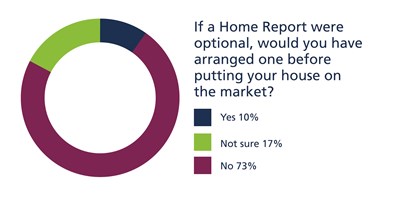 It is potentially to be expected that a homeowner who is required to pay on average £500 for a Home Report before they start marketing their home for sale are not going to be supportive of the concept. However, there is a clear majority of 65% of respondents who have not found the Home Report helpful when selling their home. This is further supported by the percentage who would not pay for a Home Report when marketing their home for sale if it was optional.


One Improvement
All respondents were asked for one suggestion on how to improve the Home Report. The responses were varied but have been classified into the following major groups:


43% were looking for some form of change to the content of the Home Report. These were broadly in relation to the level of detail within the report or what is/is not included.
31% said Home Reports should be scrapped.
15% wanted the valuation looked at in relation to how it is set, how long it is valid for or its use by mortgage lenders.
9% wanted the cost of the Home Report reduced.

These results suggest that the content of the Home Report is failing to meet the needs of the consumer and might be one reason why the 2nd suggested improvement was the scrap the Home Report.
Overall Conclusion
Home Reports were introduced to bring significant benefits to consumers involved in the buying and selling of property by making more information available up front. The Home Report as a concept was conceived prior to the credit crunch and has not changed as the property market has adjusted.

While the majority of buyers found the Home Report to be helpful it is our view that it has not become an important part of the property buying process that was hoped. When presented with the option that a home may not have a Home Report, 90% said this would not deter them from viewing that home. This raises the question about whether buyers truly value this mass of information upfront. Buyers see the Home Report as a 'nice to have' rather than a 'must have'.

Multiple surveys had become a thing of the past as a result of "offers subject to survey". The Home Report has brought back the ghost of multiple surveys with a third of buyers saying their home had a second survey completed.

Sellers are not supportive of Home Reports and it creates an additional financial burden when it comes to selling their home.

These are the views of consumers who have been through the process of ordering or relying upon a Home Report, and as a result should not be discounted. The interim review of the Home Report which came out in 2010 did not recommend any significant changes to the Home Report. However, based on these consumer views it is clear that there is a need for reconsidering how the Home Report works from a content perspective.

When asked about improving the Home Report, the main answer was in relation to the content of the Home Report. For example, actual responses included:


Lack of proper roof inspection should be addressed
Prefer a separate survey where surveyors not just ticking the boxes and feel they actually are reporting about the property in question.
A more transparent description of 1, 2 and 3 ratings and a requirement for more detailed analysis of 2s and 3s.
More concise - better summary
Allow it to actually say something about your property that is useful. It's just a bland box filling exercise that doesn't really give people an idea of what condition your property is actually in. Surveyors can only say bland things that are very subjective and that leaves you not really knowing whether something is an issue or not

At a meeting of ESPC Property Managers, a number of surveyors expressed their concerns about the tick-box nature of the Home Report and how it was limiting them delivering their professional opinion to create something that was of real value.

With buyer apathy, seller dislike and major reservations about the Home Report among those who work within the property industry, it is clear that the Scottish Government needs to look again at the content, structure and requirement for the Home Report. The objective for the Home Report may be valid but it is missing the target in terms of how it is working and what is being delivered to buyers and sellers.

If consumers must face the additional expense to be able to start advertising their home for sale, ESPC would welcome action from the Scottish Government to make the Home Report something of value to consumers.
If you have any questions about the Home Report and what it means for the property you are looking to buy or sell, please contact your local ESPC Solicitor Estate Agent (if you do not have one please use our Find A Solicitor service) or visit www.espc.com/homereport.