Have a stress free festival
Topics
Whether you love it or hate it, avoid it or embrace it, the Festival can be a potentially stressful time for residents, so read on for top tips for relaxing in August.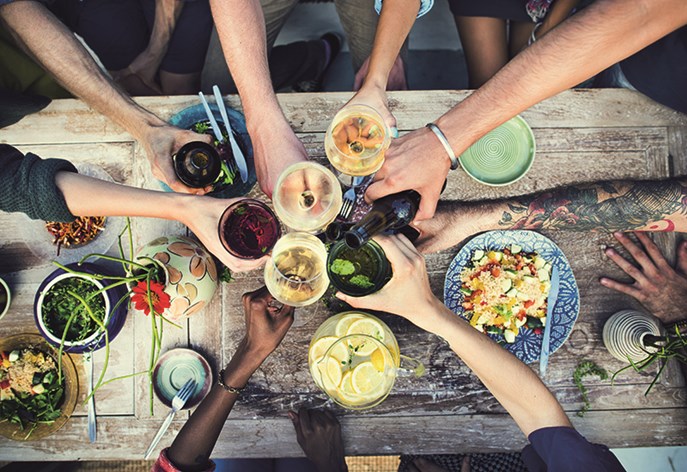 Ruth Lewis, vegan blogger and nutrition student, offers advice for unwinding during Edinburgh's busiest time of the year.
Keep your blood sugar levels stable

Whether you are working or partying, ensuring your blood sugar levels are stable will help to keep your energy levels up throughout the day and stave-off stress. 

- Don't skip meals: eat regularly to keep up your energy. Have a good breakfast before heading out and plan in time for lunch and dinner. If you are out and about at the Fringe, why not pick up a falafel wrap or head to Henderson's or Urban Angel for some good organic food. If you are working, making up a salad box at home and taking it with you can be a quick and easy way to ensure you have something nutritious during the day.

- Include protein with every meal: this helps to stabalise your blood sugar and avoid energy dips. Good protein sources include: palm-sized portions of lean meats or fish; eggs (boiled or poached); beans, lentils or chickpeas; natural yoghurt; tofu; quinoa; or hummus.

- Opt for wholegrains or root vegetables over simple, refined carbohydrates: sugars from the former enter the blood stream more slowly meaning they don't cause our blood sugar levels to spike. For example, choose brown rice, bulgur wheat, buckwheat, wholewheat sourdough or rye bread or sweet potato instead of white bread, pasta, rice and potatoes.

- Limit caffeine, alcohol and sugar: these stimulants cause blood sugar levels to spike; in turn leading to a crash which is when we experience energy dips and cravings. If you do want to indulge, try to have them with food as that will slow the release of sugar into the blood.


Detox

Late nights and alcohol can put strain on your body. Detox by – 

- Aiming to have 10 portions of vegetables a day and 1-2 pieces of fresh fruit. Vegetables and fruits are packed with phytochemicals that are beneficial to health and will keep you feeling well.

- Cruciferous vegetables such as broccoli, Brussel sprouts and cabbage, contain particular phytochemicals that are thought to aid liver detoxing.

- For every meal, around half your plate should be made up of vegetables and try to eat as many different colours as you can to ensure a range of nutrients are consumed.

- Drink water to flush out toxins. Include some detoxifying lemon for a refreshing drink or, if you want a hot drink, opt for green tea which contains phytochemicals thought to support detoxing as well as improving alertness and cognitive ability.

- Take a green supplement such as barley grass: it contains chlorophyll which can bind to toxins and help eliminate them from the body.

Consider Supplements

You may want to consider taking a supplement over the Festival period to give yourself a boost. If you are suffering from a medical condition or taking prescription medication, please just check with your health care provider first.  Otherwise, try to opt for good quality supplements, for example from the Edinburgh Centre for Nutrition and Therapy in Tollcross, Real Foods or any other health store. 

Supplements that may be beneficial include - 

- B vitamins and CoQ10: these are used for energy production; taking extra in times of need can help give the body a helping hand.
- Magnesium: this can help relax both body and mind. Try a magnesium salts bath as a restful end to a tiring day: the magnesium soaks in through the skin to be utislised by the body.
- Ashwagandha: an ancient herb thought to have a range of benefits including helping us to deal with stress and maintaining energy levels.

Meditate

Meditation is growing in popularity in the West as an effective way to combat the stress of modern living. Whether you are a complete beginner or have some experience, check out the Buddhist Meditation Workshop which is part of the Fringe programme at The Healthy Life Centre, £10.

Do Yoga

With its controlled breathing and focusing of the mind, yoga is another great way to combat stress. 

- Check out the Fringe Festival Yoga Classes at Soulshine Yoga in Marchmont (2pm Mondays, Wednesdays and Saturdays in August). 


- Or why not try Vegan Daybreaker: a one-off Fringe special involving early morning yoga and dancing followed by a hearty vegan breakfast, guaranteed to leave you feeling refreshed andenergised (7am, 12th August, Henderson's).


- Alternatively try your local yoga studio: they will likely have drop in classes for beginners. 

Get a Massage

Take time-out for yourself and work on tired muscles by treating yourself to a massage. Neal's Yard Remedies are open every day of the week and offer a range of treatments.


Pace Yourself

If you've only got a few days off to "do" the Festival it can be tempting to squeeze in as much as possible. But pacing yourself, ensuring you have time to rest and eat between shows and some earlier nights, will mean you will feel much more relaxed.

If you are working, try to take breaks and days off whenever you can, or plan a holiday in September to rest and rejuvenate.

Ruth Lewis is a vegan and healthy eating blogger and studies Nutritional Therapy at the College of Naturopathic Medicine. If you are interested in knowing more about how making changes to your diet and lifestyle can improve your health and wellbeing, you may wish to see a Nutritional Therapist or attend the student clinic for a tailor-made nutrition plan. Contact the Edinburgh Centre for Nutrition and Therapy in Tollcross for further information.