Getting to know Dunfermline
Topics
ESPC's Vicky Livingston helps us get to know Dunfermline
ESPC solicitor estate agents market and sell a wide variety of properties throughout West Fife & Kinross. As the former capital city of Scotland, Dunfermline is a prime residential location and is well worth consideration for those looking for a new property. Dunfermline is one of the most popular shopping destinations in Fife and has the second largest retail provision in Fife. The focus of Dunfermline's town centre is the main shopping thoroughfare which is located along a traditional, pedestrianised High Street. The town centre is bounded to the east and to the west by two public parks giving you a sense of the countryside in the city centre.
Vicky Livingstone, ESPC Sales Team Leader, currently lives in Dunfermline and tells a little more about what's on offer.
A little about Vicky
I grew up in and around Dunfermline.  I studied in London where I lived for two years, then made the move back north again! I have worked at ESPC for three years and I am currently expecting my first baby!
Favourite watering hole
Fabric. A cool and funky bar with great food and cocktails! Mocktails for me now though…
Favourite place for eating
If you're looking to get out of the city The Red Lion in Culross is amazing for 'pub grub' and a restaurant called Gratzi in the centre of Dunfermline does fantastic steaks.
An interesting fact about the area
Robert the Bruce was buried in Dunfermline.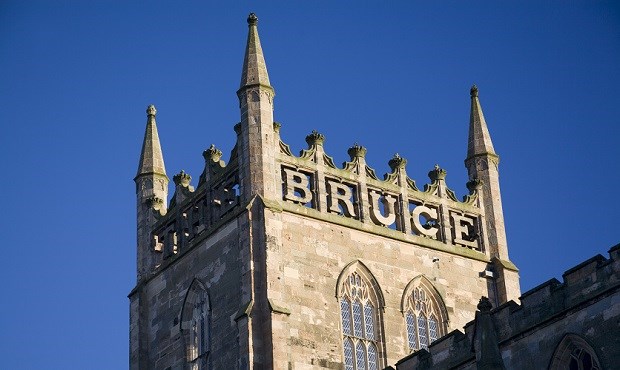 What I love the most
The people and the fact that it's so easy to get everywhere, including in to Edinburgh for work.
Favourite local business
Living Fires – a shameless plug of my dad's fireplace company! If you're looking for a new fire take a look at his website!
How would you describe the style of properties in the area
A mixture of some amazing new builds and traditional stone built villas. It's very affordable by comparison to Edinburgh – there are some really lovely properties, in good locations currently for sale through ESPC.
Describe the area in three words
Friendly, lively, cultural.
Is there anyone famous associated with the area?
Craig Levein, the old Scotland manager, lives round the corner from me!
Search for properties for sale in Dunfermline.