ESPC's biggest charity donation
Topics
ESPC is celebrating being able to hand over £2649 to two of its chosen charities following its most successful fundraising quiz night to date.
The total is to be split between British Heart Foundation (BHF) Scotland and Action for Charity.  The event was held at the end of October at the Ghillie Dhu and welcomed 160 guests, which made up 40 teams, comprising ESPC members, suppliers and charity representatives.

Quiz master on the night and Sales and Marketing Director at ESPC, Paul Hilton (pictured middle), said, "We are delighted to be able to present both these worthwhile charities with funds raised through the kind support of our members and suppliers.
"ESPC has a strong working relationship with both BHF Scotland and Action for Charity who we work to support throughout the year.  We would like to thank everyone who attended making the quiz night the biggest one yet and helped donate towards our total of £2649."
Coronary heart disease is Scotland's single biggest killer, and BHF Scotland is leading the fight against it. The charity works to help people who are living with heart and circulatory conditions, funding pioneering research as well as providing care, support and information.
Comments from The British Heart Foundation...
Head of Volunteer Fundraising at BHF Scotland, Barbara Osborne (pictured left), said, "We would like to thank everyone from ESPC who helped to make this quiz night their biggest event yet. The outstanding support from all who attended will go towards helping us continue the fight for every heartbeat in Scotland.
"Our partnership with ESPC, which began earlier this year, has been a huge help so far and we look forward to continuing to work with its staff, members and customers in the future."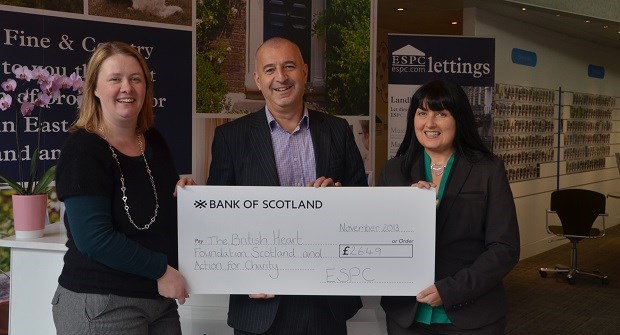 Comments from Action for Charity...
Action for Charity offers people the chance to raise funds for a huge range of organisations through challenge events in the UK and around the world.  The money raised by the quiz night will go towards Programme Manager at ESPC, Heather Robertson's (pictured right), fundraising total who is currently raising money for the organisation by taking part in one of their events, Cycle China, next year.
Heather commented, "By taking part in this 450km cycle I aim to raise over £3000 through sponsorship and events.  This money will go towards supporting its various member organisations in Scotland including Breast Cancer Care, Jo's Cervical Cancer Trust, and Ovarian Cancer Action.
"I would like to thank ESPC for this generous donation which will help me achieve this target and support these incredibly worthwhile causes.  I'm really looking forward to the event – hopefully my training will pay off!"
To find out more about how you can support the British Heart Foundation visit bhf.org.uk. To support Heather's fundraising for Action for Charity visit www.justgiving.com/Heather-Robertson1