Libby Clegg running with ESPC till 2016
Topics
Libby Clegg recently renewed her contract with ESPC who will be sponsoring and supporting the paralympic athlete through her training and upcoming competitions.
ESPC is delighted to announce it has extended its sponsorship of Paralympian Libby Clegg for another four years to support her dreams of running in Rio in 2016.  She has already formed part of team GB in London 2012, as well as Beijing 2008, taking part in the T12 100m and 200m category sprints.  Now with two silver Paralympic medals under her belt, her focus is making the team in Rio.
The sponsorship will help pay for Libby's travel to up to 50 competitions all over Europe, as well as her training and living expenses between now and 2016.
Exclusive interview
Watch our exclusive interview with Libby Clegg on what she's been up to recently and her palns for the near future.
Libby visits ESPC Showroom
Libby popped into the ESPC showroom on George Street last week to tell us what she's been up to and how she's been getting on post Paralympics.
"I've just returned from warm weather training in South Africa for three weeks ( unfortunately without a tan!) for my first indoor meet which took place in Glasgow.  It was all a bit scary as my guide runner, Mikhail, injured himself the day before the race, therefore for the first time in five years I had to run on my own!"

The athlete has a deteriorating eye condition known as Stargardt's Macular Dystrophy disease giving her only slight peripheral vision in her left eye and is registered blind.  Her guide runner ensures she is running within her lane so as not get disqualified from a race.
Libby's next race is the World Championships at the end of July in Lyon which will be the biggest event of the season.  This season is set to be shorter than previous seasons therefore she hopes to get a longer holiday before busier times ahead in preparation for the Commonwealth Games in Glasgow next year and Rio 2016.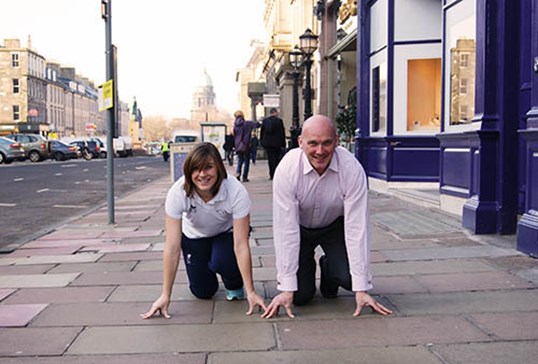 Fun Facts
Along the way and over the next four years Libby, through training and competitions, will have run nearly 1000km on the track and spent over 2000 hours in the gym.  And between now and Rio, it is estimated that she will go through 16 pairs of trainers and 8 sets of spikes.
In addition to this it is thought she will go through over 200 packs of washing tablets a year with her running kit going through the machine four times a week! And with her boyfriend also being a professional sportsperson - that's a lot of washing!
She says:
"I am really pleased that ESPC is continuing their sponsorship. It's going to help me with my travel and living expenses so that I can concentrate on my training.  Everyone at ESPC has been really supportive and there's a great connection because of the length of time they have stuck by me."
Libby was first introduced to ESPC when she undertook a week's work experience within the company in her final year at the Royal Blind School.
Malcolm Cannon, CEO of ESPC added,
"We've all got to know Libby well and want to see her continue to succeed. She puts a great deal of time and effort into her sport and is a fantastic example of the determination and effort needed to go out and win!  She is a true inspiration and we are incredibly proud to be sponsoring her."
Follow Libby
For more information about Libby and her progress visit facebook.com/teamlibby or 'like' ESPC on Facebook facebook.com/espc.property for regular updates on Libby.
Read more about Libby Clegg by visiting any of the linked blog posts: