ESPC on starting line with paralympian
Topics
Paralympic silver medalist and world champion sprinter, Libby Clegg, today received a timely boost ahead of the London 2012 Games with the announcement of a new sponsorship deal with ESPC, the leader in property marketing for East Central Scotland.
The track star, who is registered as blind due to a deteriorating eye condition, trains full time thanks to lottery funding however she believes the extra support announced today will bolster her efforts to go for gold in London later this year in the T12 100m and 200m.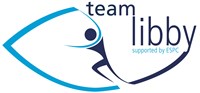 She said: "I'm delighted to be working with ESPC whose additional financial support provides me with the security needed to ensure everything is focused on achieving my sporting goals. Alongside promotional activity, I'm looking forward to working with ESPC on community projects in schools and, if it motivates just one person to adopt a sporting or healthier lifestyle, I'll be delighted."
Clegg and ESPC were first introduced in 2008 when she began a two-week work placement with the property marketers shortly before the Beijing Games.
ESPC Chief Executive, Malcolm Cannon, said: "I heard about Libby [Clegg] from various members of staff who had been keeping track on her career since the placement. The success she's had so far is outstanding, so our aim is to help generate as much support for her as we can and raise her profile so that when she takes to the starting line she has everyone in Edinburgh, Lothians and Fife cheering her on, as well as ESPC."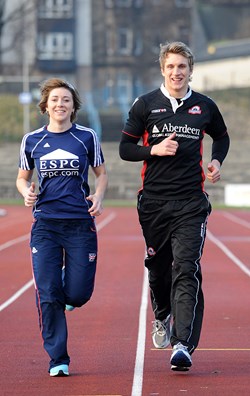 The announcement is the second sporting venture for the property-marketing giant which last year signed a co-promotional partnership with Heineken Cup quarter-finalists Edinburgh Rugby.
Full-back Tom Brown teamed up with the sponsor and sprinter to launch the new deal, four days out from a potential Scotland A debut against the England Saxons at Netherdale on Friday.He said: "It's great to find out about the breadth of sporting support given by ESPC and it's involvement in the top tier of both rugby and athletics. With the Paralympics coming up later this year and our success on the European stage it's a very exciting time for us all. I wish her every success this year as she goes for gold."
One of the key components of the ESPC-Clegg sponsorship is a community-based promotional campaign, which sets out to harvest local support for the sprinter and 'Team Libby'.
ESPC Marketing Manager, Neil Harrison, explained: "Team Libby is something we are looking to promote to build up support for Libby from across Edinburgh, Lothians, Fife and further afield. Through espc.com and our social media channels we want to build the fan base Libby has behind her during this very important year. From Tuesday, anyone can join the team at www.espc.com/teamlibby."