With more time at home now may be the perfect time to give your garden or outdoor space some TLC. Even though you might not have the normal garden resources at your green fingertips, we've got some simple garden ideas for you to try. And even if you don't have an outdoor space, we've got some ideas for how you can bring the outside, in,  are all inspired by properties for sale on espc.com. 
Garden furniture ideas
With all of us spending most of our time at home, some funky garden furniture is a great way to brighten up a garden space, plus it gives you the perfect spot to soak up some vitamin D on those sunny spring days.
Your garden design can be as unique as your interior design with furniture types to cater for all. Some local and nation garden shops are doing contactless delivery, so when it is safe to do so, you can consider ordering some furniture online, and remember if you are buying any garden furniture, social distancing measures should be taken at all times 
Or, why not take a look at what you've already got in the house? It could be the perfect time to experiment giving some old furniture a makeover for the garden.
Take a look at some of our favourite examples on ESPC just now:
A three bed house in North Berwick
A three bed house in West Linton
A three bed house in Kirkliston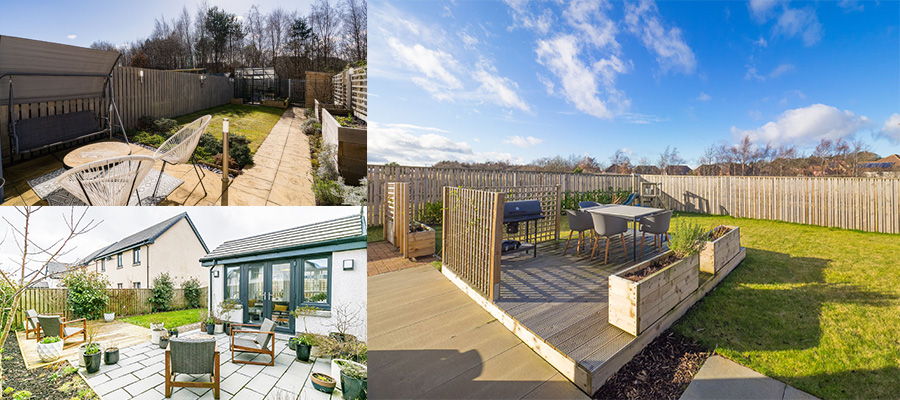 Balcony gardens
Potted plants are a great way to bring some life to balconies. Why not play around with some brightly coloured pots to add a dash of colour, or you could experiment at growing some vegetables in a pot?
Some supermarkets have a small garden section and plants section, so you may be able to pick up some garden plants while doing your food shopping.
You could also experiment with upcycling things you already have in your home to be used as plant pots. Such as used plastic bottle or large jars.
We asked Angela Moffat, exterior designer from Paterior Outdoor Living in Edinburgh, her tips for sprucing up your balcony garden.
"Put thought into your balcony and make it a continuation of your home to flow with the look and taste of your interior style. Alternatively, create a little haven inspired by a favourite place, whether it's a beach bar with palm plants, grasses, cane, macramé, driftwood, etc. or a rustic Italian courtyard with terracotta, wicker, herbs and climbing plants.

You may have found you are cooking much more since lockdown, so why not create a mini 'kitchen garden' with herbs, lettuce, tomatoes, etc. You can also add electric or solar lighting and a heater to enable you to sit out in the evening or on cooler days. From spotlights to festoon lights; lighting can bring a balcony to life and provide an attractive outlook from within the home."
Take a look at some of your balcony plant inspiration on ESPC just now.
A three bed flat in Slateford
A three bed flat near Leith Walk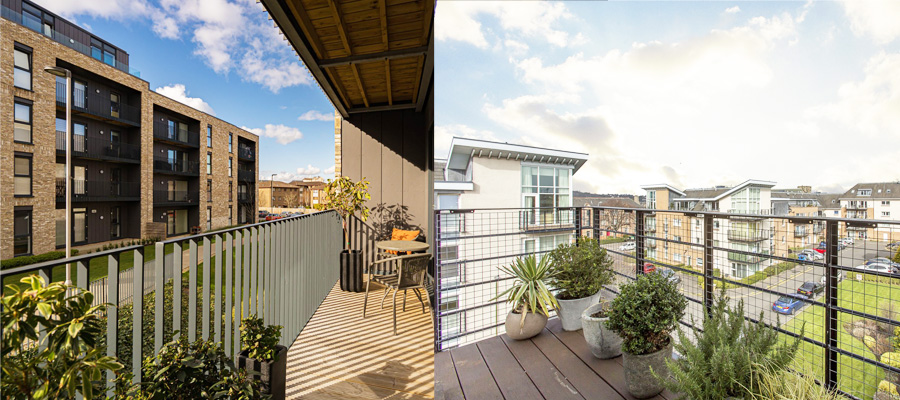 Indoor plants for flats
If you don't have a garden or balcony, plants are a great addition to bring that feeling of the outdoors, in. They've even been linked with reducing stress, improving air quality and helping to create a calming space.
You can add a plant to any room and could even try growing some of your favourite herbs on a windowsill.
Take a look at some of our favourite indoor plant inspiration on ESPC just now.
A two bed flat in Merchiston
A one bed flat in Murrayfield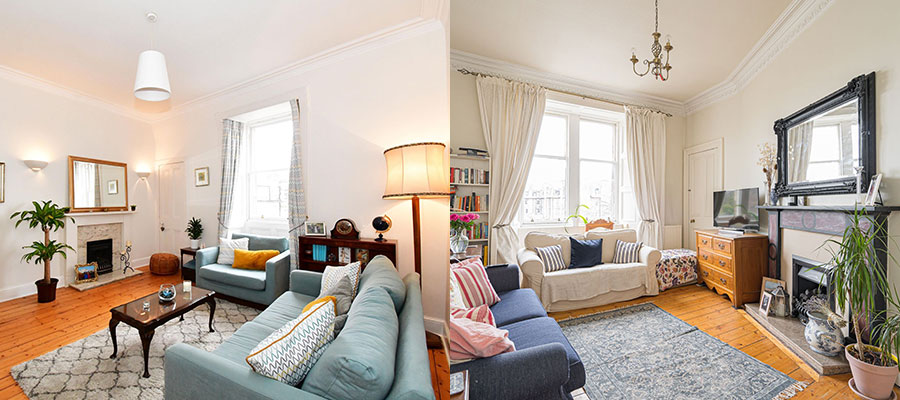 If you are looking for more interior or garden inspiration, search properties on ESPC today.