Creating the perfect outdoor space
Topics
DIY tips for improving your garden
Come rain or sun, Scotland embraces summer in every way. Creating the perfect outdoor space, if you have the option, which can be used all through the summer can be a great escape from everyday life.
A little holiday away from the TV might just be the change you need to pep you upduring the weekday evenings or serve as a location for alfresco dining and drinks receptions during the weekends.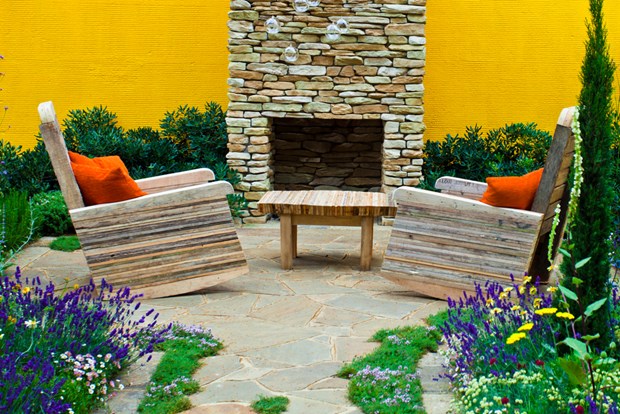 Cover up
When you're planning your outdoor space make sure that you consider whether you can incorporate some sort of roof or covering to protect yourselves from the elements. Terracing a structure above a seated area and growing vines or covering it in a light mesh can be the ideal solution to creating a space that can withstand sun or rain.
Make sure that before you embark on this challenge that you ensure that it doesn't require any planning permission or get in the way of trees, fencing or cables.
Alternatively, a gazebo may be more practical and time effective to put up. Patios are a great way to improve the look and feel of a property if you want to add value to it.
Patio haven
Outdoor and DIY stores make it easy to source and lay your own patio either with slabs, decking or a combination of both. Why not talk to your local store about the best option for you to set up a patio project for the summer.
Try not to take up too much valuable lawn space with decking and slab work and instead focus on creating a smaller, quality area that can host a small table and chairs while still allowing you to do something with the garden and lawn area remaining.
Feature walls
Feature walls are another way to dress up a perhaps forgotten part of the garden. Clear the weeds and lawn from the wall and give ita good coat of outdoor base paint before going bold with a flush of colour or hanging planters on it.
This will form a great backdrop for a seated area next to it which you can simply set up by placing a few slabs up against the area of the wall and placing a chair and table set in this area.
Be inspired
Take a look at our LimeLight Gallery to be inspired by some of our featured properties and how to create an intimate but stylish outdoor space that can stand not only the test of time but also all the seasons that Scotland has to throw at it.
About the author
Lisa Venter spends most of her time at the ESPC office on George Street managing The ESPC Paper, engaging with fans and followers via ESPC Facebook and ESPC Twitter channels and looking at as many fancy new houses in Edinburgh on espc.com/tablet that she can during her lunch break. Watch out for more of her gardening blogs and blog posts on other lifestyle topics in the future.