Buying a home through the eyes of a child
Topics
Children across the UK have an optimistic outlook on life despite the economic downturn, with 68% believing they will own their dream home by just 35 years old!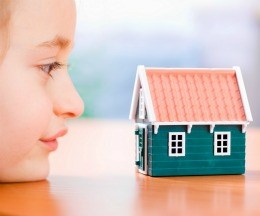 New research by Clydesdale and Yorkshire Banks also shows that, 19% of those are planning to own their dream home by the age of 25, despite the fact that 33% of children estimate their dream home will cost them between £500,000 and £1million.
The research also revealed that kids are still staying true to childhood stereotypes. Boys are hoping for a dream house with secret passageways (41%), a cinema (37%), a bowling alley (33%) and a football pitch (23%). Girls, on the other hand, would prefer their dream home to have stables (32%), a cottage (22%) and a farm (15%).
To achieve their dream home by the age of 35, kids will definitely need to start saving early!