The new Life and Style Edinburgh event is being held on Saturday 1st and Sunday 2nd July at Royal Society of Edinburgh building on George Street and we have a pair of tickets to give away to two of our readers.
Life and Style Edinburgh is organised by Essential Edinburgh and it features celebrity and local speakers, workshops, fashion shows and free beauty treatments from 40 city centre businesses.
Interior designer Sophie Robinson, star of BBC's The Great Interior Design Challenge, will be appearing at the event to discuss common interior crimes and fixes. We caught up with her before the end to find out the latest in interior design.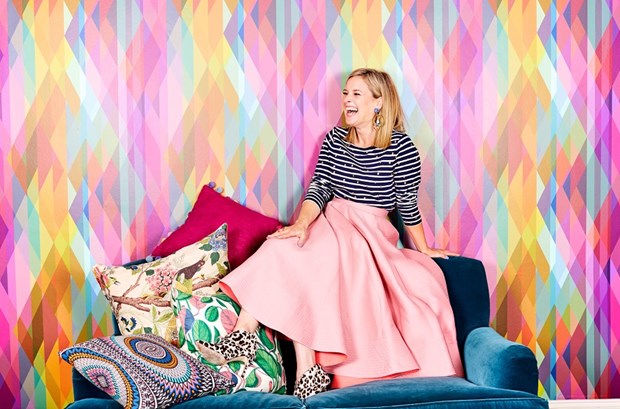 What's your favourite interior design job that you have worked on?
I've been lucky enough to work on many wonderful and creative projects. However recently joining the team at DIY SOS on BBC1 was by far the most challenging and the most rewarding. We built a five bedroom house from the ground up in just nine days and I had the privilege to design each and every room. There were kid's rooms and I always enjoy designing them the most as children don't have the same complexities around colour as adults. You can be so much freer in the designs.
What trends do you expect to see over the next year?
Colour continues to trump beige in the most fashionable homes. The washed-out light and pared back Scandi style appears to be on the wane. The trend for very dark paint colours continues which go towards creating very dramatic and cosy spaces. I see the passion for luxury is still carrying forward and the favoured metallic is gold and there is a lot of marble used in product and furniture deisgn. There is also an irreverent celebration of the flamboyant going on with large scale printed wallpapers, ostrich plumb lamps and animal prints.
Do you advise people to play it safe with colour or to be bold?
What do you think! I think whenever you play it safe with colour or any aspect of interior design the result is always a tinge of disappointment. However when you go for it and take the plunge the results are more often than not thrilling and up-lifting. That's what I think interior design should be about.
You'll be speaking about it at Life & Style Edinburgh, but what are some of the common interior crimes?
I think one of biggest blights against successful interior design is clutter. And I'm a maximalist so it's a very real struggle for me too. You can have the most mouth-watering scheme in place but if the room is then choked up by unsightly clutter then the whole effect is killed off. First up I think we should all continue to learn to live with less. And then next plan efficient hidden storage to snaffle everything else away. This then leaves you to have fun displaying the items you love to look at. I think the next design crime is people don't put enough personality into their schemes. You want to avoid what I call the catalogue look where everything appears to have been bought from the same shop as it all matches. Homes should feel unique and just as interesting as the people who live in them.
Are there any easy ways to lift interior design for people who don't have time or a budget?
A well known trick in the interior design trade is that if budgets tight - go hard on the colour. Adding punches of colour can be the most cost effective and impactful way to lift a space. Think of replacing those cream lampshades for some colourful ones, get a large framed art print hung up on the wall. Buy a statement rug in a bold pattern to disguise the beige carpet or even just a bevy of bright cushions on the sofa can completely lift the space.
How would you describe the interiors of your own home?
Unfinished! We moved into our dream home a year ago but its a huge project. The only room in the whole house that's been decorated so far is my sons. The rest is all magnolia and beige carpets inherited from the previous owners. But when you're in my job it's impossible to pick a paint colour as I love them all!
Win tickets!
We have a pair of tickets to the Life and Style Event which can be used on Saturday 1st or Sunday 2nd July where you can enjoy complimentary beauty treatments from the likes of Lush, Bobbi Brown and Neal's Yard Remedies; reserved seating at fashion shows featuring Anthropologie, Oliver Bonas, Marks & Spencer, Covet and Gap; cocktail-making masterclasses with Badger & Co, styling sessions with Jenners; and a seat at the Lifestyle Stage to hear from guest speakers.
Tickets also include a welcome drink, a £5 voucher to spend at participating businesses after the event, and entry into a competition to win the 'Ultimate Edinburgh Weekend'.
All you need to do is email marketing@espc.com by 5pm Tuesday 27th June with your name and address and tell us where the event is being held. We will notify the winners on Wednesday 28th June.