A winter garden that cheers
Topics
Some useful hints and tips of how to create a warmer outlook for your garden this winter.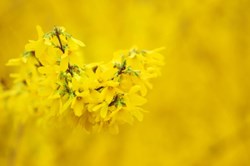 Some good advice this week from our garden expert, Lisa Lempsink, on which winter plants will keep your spirits high through the bleak midwinter. One climber that everyone seems to love is the winter jasmine (Jasminum nudiflorum). Flowering from December through to February, it will cheer up even a fairly dark corner with its beautiful yellow flowers.
Fragrant plants are essential in the winter garden. Chinese with hazel (Hamamelis mollis), Lonicera fragrantissima, Sarcococca confusa and Mahonia x media 'Charity' all have beautifully scented flowers. It's also important to have a good backbone of evergreen shrubs in there. It is so disappointing to find that your garden has suddenly disappeared once winter sets in. When selecting evergreens, be sure to look for those with either winter colour and/or scent. Why not try Daphne bholua 'Jacqueline Postill', Skimmia x confusa 'Kew Green' or Erica carnea 'Springwood White'?

If you feel you've missed the boat this year, don't despair. Make a note (or take a picture), now of any gaps and start planning which plants you would like to fill these come springtime. In the meantime, pat yourself on the back for all the things you got right in your garden this year and enjoy the thought of those colourful, sweet smelling plant suggestions that should help provide you with a warmer garden next winter.

For more advice email Lisa Lempsink Garden Design at lisa@lempsink.co.uk or call 07737 792290.