Libby Clegg April Blog - Q&A
Topics
For the blog this month, I am answering a few questions which have been sent to me by ESPC staff.
What are your plans for the season ahead? (Malcolm, Stockbridge)
The outdoor season is going to be a hectic but short one. My plan is to be racing between April and July. It all starts with a 100m and 200m race in San Paulo (pictured below) as I have been invited to take part in the Loterias Caixa Brazilian Athletics Open Championships. It will be great to experience running in Brazil. I have also a couple of races in Germany and the World Championships in Lyon. In total I will be taking part in about 14 competitions across the season.

Do you enjoy the travel that comes with your athletics career? (Leanne, Corstorphine)
Travel is what you have to do if you want to test yourself against the best in the world. It is often a case of flying in and flying out. You do not get to see much of the city other than the airport, your hotel and the track. Plus, it is better to spend your time between races recovering rather checking out the area. My athletics career has taken me to New York three times. Unfortunately, it has just been New York airport before flying somewhere else.
I read on Twitter you have had to change the guide rope that you and Mikhail use, why is this? (Karen, Kirkcaldy)
At the London Paralympics there were claims that some athletes were being slung shot across the line by their guides. To help combat this, the people who set the rules have said that the material connecting guide and athlete must not be rubber or stretch in any way. After trying a few different options, Mikhail and I have elected to use a weightlifting strap to keep us connected. The thinking being that a weightlifting strap should be able to handle the pressure we put it under while running. We are now running skin on skin.
How does training change between winter and summer? (Vincent, Murrayfield)
Training over winter is all about building up strength and stamina. Summer training is more technical and doing much more speed work. For example, training now involves shorter faster runs with longer recovery times. These sessions are just as painful as the ones I did over the winter.
As you are partially sighted, how much can you see? (Neil, Warriston)
I have no vision in my right eye and can see peripherally for about ½ metre with my left eye. However, I have no central vision in either eye. This does not mean there is a black hole. I best describe my central vision as a 'scrunched up firework made up of colours such as pink, yellow and green'.  So for example, when I am watching TV I have to sit right next to the screen. Does not make good viewing for anyone else in the room.
Are you enjoying splitting your time between Edinburgh and Loughborough? (Victoria, Linlithgow)
It provides a regular refresh to my training schedule to have different surroundings and track to train on. It is definitely working for me.
What are your hopes for this season? (Michael, Polwarth)
I am aiming to lower my PBs in 100m and 200m as well as have a successful World Championships in Lyon.
How did you find your fashion photoshoot in the ESPC showroom? (Amy, Hillside)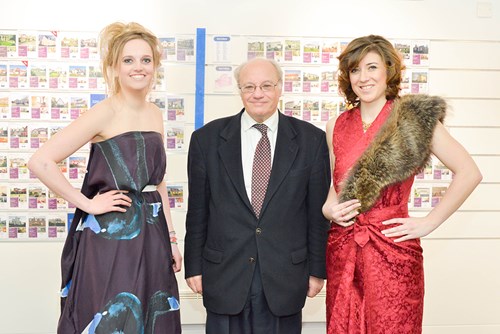 It was great fun. I got to chat to Anna Vincenti (freestyle skier supported by ESPC), the designers who created the outfits and have my make-up done professionally. The clothes were fabulous and I really liked the red dress I was wearing. It all made a pleasant change from tracksuit and trainers.
If you have any questions please post them on facebook.com/espcteamlibby and I can answer them in future blog posts.
Thanks