Is demand to move to the countryside rising in Scotland?
Topics
With the impact of the Coronavirus pandemic and subsequent lockdown measures, a few property industry experts and press outlets in the UK have pointed out that this could result in increased demand for homes in the countryside.
They have suggested that those who have been in city flats during lockdown are likely to crave outdoor spaces and the increased number of businesses allowing staff to work from home makes commuting less of an issue.
So, are there going to be a lot of people moving to the countryside when restrictions on the property market are eased in Scotland? We investigate in this article.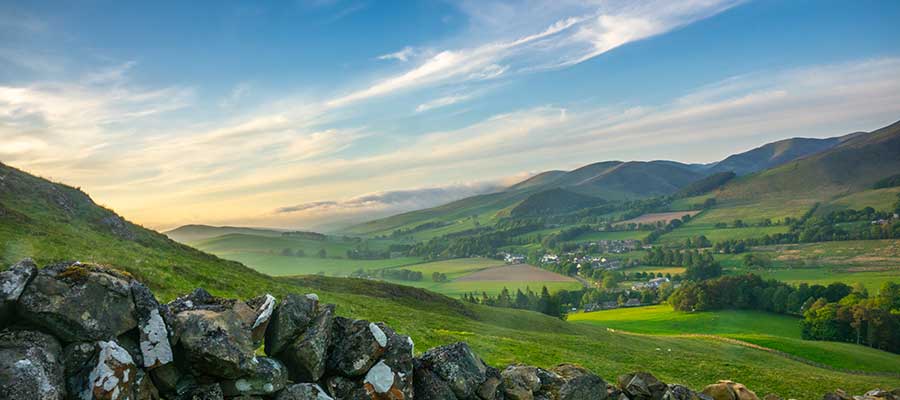 Property searches on espc.com
On ESPC, property searches have been increasing in recent weeks as people start to think about making a move once certain lockdown restrictions have been eased. Comparing May to April, there have been some particularly notable month-on-month increases for property in the Scottish Borders and East Lothian, up 43% and 19% respectively.
However, searches for homes in the capital have also increased. Comparing May to April, there's been a 15% month-on-month increase for properties in Edinburgh.
ESPC agent survey
In a survey of ESPC agents, 36% said that they had noticed an increase in enquiries from those looking to move to the countryside.
Graham White, Head of East Lothian Operations and Estate Agency at Anderson Strathern, was one of these respondents. He said: "Due to the current lockdown, we've certainly noticed an increase of potential viewers indicating that they are now looking to move from their flats with no garden space to a property with a private garden.
"East Lothian is proving particularly popular, mainly because of the aforementioned gardens, but also due to the scenic locations of the towns and villages and the transport links back into Edinburgh if required.
"We had one particularly interesting case of a purchase client seeing a property in the Scottish Borders that they were keen to view, and we noted interest on their behalf. The property had been on and off the market for several years and when we enquired about its availability, we were told it now has 18 interested parties."
In the west of Scotland, agents are also noting increases in these enquiries. Mike McKenna, Head of Estate Agency at Corrigall Black, said: "We're based in Dunoon and a lot of the properties we market are in rural or semi-rural locations. We've definitely noticed an increase in people looking to move to this area from all over the UK."
Some of our agents have noticed an increase in these enquiries from English buyers, particularly since restrictions on the English property market were eased. Ross Kilshaw, Partner at Borders-based Cullen Kilshaw, has noticed an uptick in enquiries from people in England and Edinburgh looking for generous outside spaces. Paul Cavers, Sole Practitioner at Cavers & Co, which is based in Kirkcudbright in Dumfries and Galloway, has also noted an increase in enquiries from English buyers in recent weeks.
However, most of the agents that filled out this survey reported that they haven't noticed an increase in these enquiries. One of these respondents was Claire Kavanagh, Property Manager at Jardine Phillips. She said: "I haven't noticed an increase in people looking to move to the countryside just yet but I know this is something that family buyers are considering more following the recent lockdown, as they crave the space to spread out safely.
"We have lots of properties coming onto the market on the outskirts of the city in places like Gorebridge, within easy commuting distance, which we are expecting to be popular.
"For people looking to stay in the city, we are definitely noticing a marked increase in interest in the outdoor spaces attached to properties, as buyers realise the importance of a garden should anything like this ever happen again. Where people previously might not have even looked at the communal garden for a tenement flat, I am already noticing that this has become a key factor for buyers."
Demand for property
Paul Hilton, CEO of ESPC, said: "The evidence we have available suggests that interest in moving home is increasing as we get closer to the relevant lockdown restrictions being eased. Demand for property appears to be on the rise in all areas of Scotland, including in towns and cities.
"Anecdotal evidence from our agents suggests that the current lockdown restrictions have led people to re-assess their priorities when looking for a home. A garden space has become increasingly important, and with more people working from home in the future, properties with space for a home office may become more attractive. "
You may also be interested in...